EXTERIOR
INTERIOR
LIGHTS
PERFORMANCE
SUSPENSION
BRAKES
DRIVETRAIN
AUDIO
WHEELS
GARAGE
Lanzar Heritage 600 Watt 2 Channel Mosfet Amplifier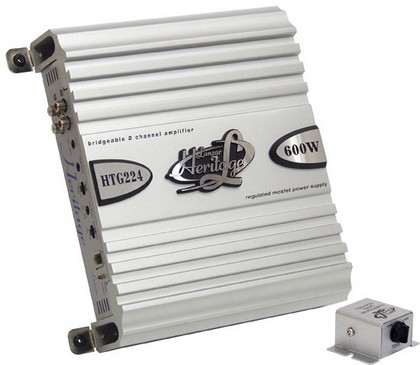 We did your comparison shopping for you!
Why are we showing competitor prices? Click Here
Lanzar is a Brooklyn, NY based car audio company that has been in the game for several decades. Their mission is to offer great customer service and top-notch car audio components without compromise. Lanzar utilizes several demonstration vehicles to showcase their products and they have a nice trophy case to show how their gear stacks up in competition. With a product range that covers the entire car audio spectrum Lanzar works hard to keep their products affordable for the budget conscious consumer who still demands high-quality sound.
Q: What is a Class D Amplifier?
A:
A Class D Amplifier is an electronic amp that operates using binary switches so that the amp is either all the way on or all the way off with little to no time spent in transition. As a result, Class D amplifiers are extremely efficient and will make the most use out of limited battery power, such as in an automotive application. These amplifiers are also highly compact and affordable, although they give up a bit in sound quality to more expensive amplifiers.
Q: How Many Channels Should My Amp Have?
A:
Choosing the right amplifier is an important part of building your car audio system. Choosing the right number of channels for your amplifier is determined by the number of speakers (tweeters, mid-range and sub-woofers) you are planning to run. In most cases you want to run one speaker per channel. Although it is possible to run multiple speakers off of the same channel it is not usually recommended since it wouldn't optimize sound quality. In general, sub-woofers require more power than smaller speakers so in many cases they will require their own dedicated amplifier.
Here is an example of possible set-ups: If you have a vehicle with four mid-range speakers and a sub-woofer you know will need one channel per speaker for all five speakers. You can either run a five channel amplifier with a dedicated sub-woofer channel in it, or you can use a four channel amplifier for the mid-range speakers and a separate mono or two channel amp for the sub-woofer. The latter option will provide the cleanest sound and allow your subwoofer to get all the power it can use, but either option will work.
See all 7 questions & answers