Kook's Off Road X-Pipe - Stainless Steel - 3' X 3'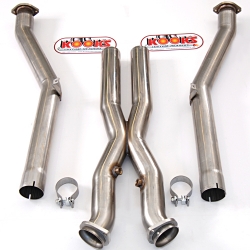 Video Description:


Everything you need to know about exhaust systems is explained on this episode of Andy's Auto Sport TV! We explain what exactly a cat-back exhaust system is, we explain why buying an exhaust system is Step 1 for improving performance, and we give information about how to make a buying decision from all the brands we carry here at Andy's.
Fits On:

97-04 Chevrolet Corvette C5 5.7L LS1
Description:
C5 Off Road X-Pipe Stainless, Must be used with Kooks Headers. (corvette Bolt In 3 Pc X-crossover: Includes X-crossover, Mid Sections And Hardware). Connects to 2 1/2" OEM Style Exhaust. Includes 3" x 2 1/2" Mid-Pipes. Must be used with Kooks Headers.

Specifications

Inlet: 3"
Outlet: 3" X Pipe OEM Connection
Average Installation Time: 1 Hours
Box #1 Dim: 39 X 25 X 8
Weight: 30lbs
Kooks Custom Headers are a well-known designer of exhaust systems. Based out of Statesville, North Carolina, Kooks has been making quality headers for decades and aims to improve their product quality through performance testing. Whether it be drag racing, road racing or oval track racing, Kooks has had their hand in it in some form or another.

Specializing in American muscle, Kooks supplies headers, mufflers and all the other exhaust bits for Ford, Chrysler, Dodge and Chevy/GM. If you're looking to get some great sound, not to mention big performance from your V8, look no further than Kooks custom headers!
Q: How do you install an exhaust system?
A: Exhaust systems are installed using the supplied hardware, which includes gaskets and high grade bolts. This is truly a bolt-on procedure and most exhaust systems are an exact fit with no modifications needed. For this reason, getting a performance exhaust system is normally considered one of the easiest ways to gain noticeable horsepower for your car.

Q: What exactly does "cat-back" mean when people say "cat-back exhaust"?
A: Many performance exhaust systems are also referred to as cat-back exhausts. Cat-back means that the exhaust piping starts from your catalytic converter and runs back all the way to the exhaust tip(s).

Q: What does an ehaust system do? Why buy an exhaust system?
A: A performance exhaust system is used to increase horsepower for your car by allowing exhaust gases to pass through your exhaust system with less backpressure and less resistance. Larger-diameter piping is normally used, depending on the application, in order to gain more horsepower and torque levels throughout the power band. A performance exhaust system can be the most cost-effective modification you can do to get more horsepower out of your car, not to mention that it will give your car a deeper more aggressive sound. And depending on the brand, performance exhaust systems normally include gorgeous new mufflers that add a great appearance to your car.

Q: Does a cat-back exhaust come with a catalytic converter?
A: No, "cat-back" actually means from the rear of the catalytic converter back, so it will include everything after the converter, but not the converter itself.


Not able to find what you are looking for?

KTM RC390 GPR Exhaust Systems Deeptone Ghost Steel Silencer Road Legal
kawasaki AR125 Exhaust Systems AR50 AR80 MBX RZX
Vance & Hines - 17921 - Big Shots Staggered Exhaust System, Chrome
Vance And Hines Shortshots Staggered Exhaust System, Black, #47229, HD Sportster
BMW R1200ST 04-13 R1200RT 05-09 GPR Exhaust Systems Furore Black Slipon Muffler