EXTERIOR
INTERIOR
LIGHTS
PERFORMANCE
SUSPENSION
BRAKES
DRIVETRAIN
AUDIO
WHEELS
GARAGE
Kicker Mono Subwoofer Amplifier - 750 Watts RMS X 1 At 2 Ohms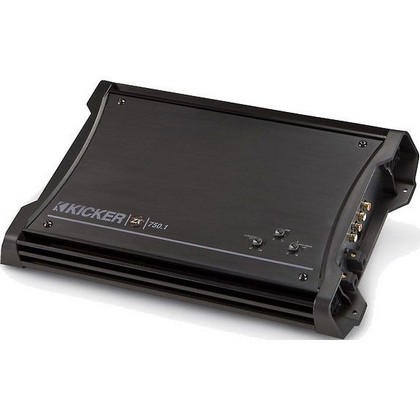 Fits On:

All Cars (Universal), All Jeeps (Universal), All Muscle Cars (Universal), All SUVs (Universal), All Trucks (Universal), All Va... See more

Description:
· mono subwoofer amplifier
· 375 watts RMS x 1 at 4 ohms (750 watts RMS x 1 at 2 ohms)
· variable low-pass filter (50-200 Hz, 24 dB per octave)
· variable bass boost (0-18 dB at 40 Hz)
· fixed subsonic filter (25 Hz, 24 dB/octave)
· Class D technology (frequency response: 25-200 Hz)
· differential-balanced inputs eliminate noise from Kicker's vehicle's electrical system
· speaker- and preamp-level inputs (speaker-level input requires an optional adapter)
· preamp outputs
· wired remote level control included
· fuse rating: 40A x 2
· 4-gauge power and ground leads recommended — wiring and hardware not included with amplifier
· 14-3/4"W x 2-1/8"H x 9-5/8"D 
The name Kicker is known to just about everyone in the car audio world. Their roots date back to the early 1970s when they were just a small operation that hand-built custom speaker enclosures and audio equipment for churches and other buildings. When they released their first high-performance car audio speaker enclosure in 1980, the original Kicker, it literally changed the game. From then on the company was dedicated to creating the best components on the audio market. With headquarters in Stillwater, Oklahoma Kicker has great customer service and is dedicated to producing the best audio components on the market. They have also gotten involved in action sports and motor sports sponsoring numerous athletes from rally driver Travis Pastrana to rodeo rider Will Howell. They are also a major name at every sound competition across the country. Livin' Loud is there motto and what they do best.
Q: How Many Channels Should My Amp Have?
A:
Choosing the right amplifier is an important part of building your car audio system. Choosing the right number of channels for your amplifier is determined by the number of speakers (tweeters, mid-range and sub-woofers) you are planning to run. In most cases you want to run one speaker per channel. Although it is possible to run multiple speakers off of the same channel it is not usually recommended since it wouldn't optimize sound quality. In general, sub-woofers require more power than smaller speakers so in many cases they will require their own dedicated amplifier.
Here is an example of possible set-ups: If you have a vehicle with four mid-range speakers and a sub-woofer you know will need one channel per speaker for all five speakers. You can either run a five channel amplifier with a dedicated sub-woofer channel in it, or you can use a four channel amplifier for the mid-range speakers and a separate mono or two channel amp for the sub-woofer. The latter option will provide the cleanest sound and allow your subwoofer to get all the power it can use, but either option will work.
Q: How many watts should I make sure my amplifier can handle? How do I know which wattage is best for me?
A:
Matching your amplifier's power with your speakers is of utmost importance to a good sounding stereo system. If you are planning on running large subwoofers for added bass you should know that subs need a lot more power (around four times more) than the other component speakers in your system. There is no set amount of power that is best for a car stereo system but usually the more power you can run, the richer and fuller the sound quality will be from the system. The most important thing is to match the amp to the speakers you are using. If you are going to run four mid-range speakers and they can handle 50 watts a piece then you'll want an amp that can supply close to 50 watts per channel. In that same system you may run a subwoofer that can handle 200 watts, in which case you will need an amp that can supply at least 150 watts to the sub.
See all 7 questions & answers