JY Altezza Tail Lights - Chrome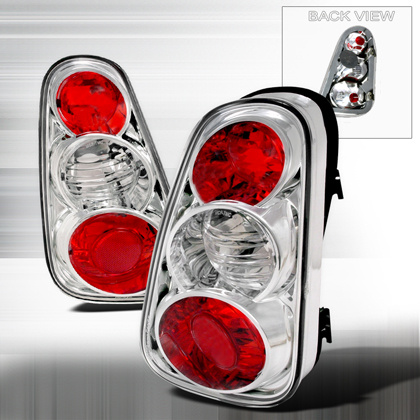 $112.86
For pair

Style : Altezza
Housing Color : Chrome
JY Altezza Tail Lights - Chrome

$112.86
For pair

Style : Altezza
Housing Color : Chrome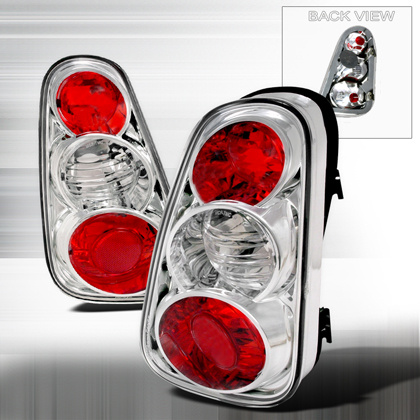 Video Description:


Everything you need to know about tail lights is explained on Andy's Auto Sport TV!
Fits On:

Description:
JY Altezza Tail Lights - Chrome
JY Lighting offers modern lighting such as LED taillights, projector headlamps, fog lights, and Euro lighting for many popular vehicles. You will find the company's quality to be on par with many more well-known brands, and the fit is generally spot-on. We've had good luck adding HID kits to the company's projector headlights, with a beam cut-off that is pretty close to that of a car with factory-equipped HIDs. All in all, we think you'll be pretty happy with what JY lighting has to offer.
Q: Is there any difference between Altezza tail lights, Euro tail lights, or clear tail lights?
A: Altezza tail lights, euro tail lights and clear tail lights are terms that mean the exact same thing.

Q: I do not live in the U.S. Will your taillights meet my local safety compliance standards?
A: Most of the lights that we carry are D.O.T. (U.S. Department of Transportation) compliant, which may or may not be acceptable in your country. Please check your local laws to ensure compliance if your vehicle must go through certification.

Q: Why buy tail lights?
A: We sell factory style replacement tail lights, and custom tail lights. Custom tail lights are a great way to modify the appearance of your car. Compared to other styling modifications, custom tail lights are relatively inexpensive and extremely easy to install. Most cars have a variety of custom tail lights available, including those with chrome, smoke and carbon fiber housings. The latest trend in the tail light market is LED tail lights, where a 'sea of little bulbs' lights up every time you brake. The lens patterns available also vary for custom tail lights, so check our product listings for details. If you want to give your car a modern, customized look, buying custom tail lights should be one of the first things you do.

Q: How do you install tail lights?
A: Tail lights are manufactured to exact OEM specifications for easy installation, so you simply remove your factory tail lights and bolt in your new set. Basic hand tools are required and installation can be completed in a matter of minutes.

Q: Are the lens covers available separately, or do I have to purchase a complete headlight/taillight?
A: Unfortunately, the lenses are not available separately.

Q: What exactly do the tail lights come with?
A: All the tail lights we sell are complete assemblies that come with the entire housing. Traditional incandescent taillight assemblies do not include bulbs, unless otherwise noted, and you would use your factory bulbs and wiring. LED taillights, however, usually include all required lighting, but may require standard incandescent bulbs for turn or reverse functions to work properly. When you receive your taillights in the mail from us, you take them out of the box, bolt them up, pop in your factory harness and bulb (if required), and you can immediately turn on the new tail lights. Tail lights are certainly plug and play products.

Q: Do tail lights come in pairs?
A: All taillights we carry are always sold in pairs, unless otherwise noted in the listing on our website.


Not able to find what you are looking for?

SET tail lights vw bus T1 kombi
GENSSI Black LED Tail Lights LED Lamps With Brake for 07~16 Jeep Wrangler JK
aircraft nav and tail lights
3 OLD ORIGINAL TAIL LIGHTS BEZELS TRUCK ? ?
88-98 Chevy CK Tail Lights Black Smoke Rear Lamps SET