EXTERIOR
INTERIOR
LIGHTS
PERFORMANCE
SUSPENSION
BRAKES
DRIVETRAIN
AUDIO
WHEELS
GARAGE
Jet Piggy Back Programmers - Modules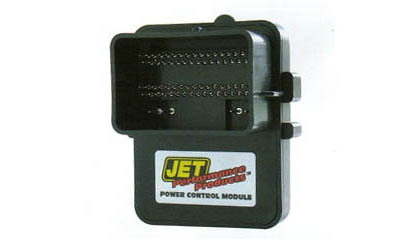 Fits On:

03 Ford Contour 2.5L Automatic Transmission
Description:
Today's vehicle use various types of computers, JET has a module or computer upgrade to fit almost every application on the road today. The ECM in the vehicle looks at various sensors such as manifold vacuum, coolant temperature, throttle position and RPM, it then processes this information and adjusts spark timing, air/fuel ratio and other parameter according to the tables stored in the JET Performance module memory. By recalibrating these tables we are able to tune the engine for the maximum horsepower and torque under various driving conditions. By installing the JET module these extra increases in performance enhance drivability, towing capabilities, reduce ¼ miles times and provide improved overall efficiency.
Jet Performance Products is a proven leader in automotive tuning technology. Their background in tuning started with Jones Performance Fuel Systems over 40 years ago. Their Fuel Systems Division has given them the opportunity to tune everything from NHRA drag race cars, off-road race trucks and Sprint Cup cars. This experience has been the basis for the Jet line of performance tuning products for street applications. JET's engineering staff is unsurpassed and considered to be the best tuners in the industry.

Constant changes in computer technology of today's cars and trucks demand that the JET engineering staff be the best. Automotive computer systems progress daily, just like every form of technology, so Jet are dedicated to providing the customer with the latest in performance tuning technology possible. Extensive research and development, dyno testing and constant fine tuning ensures the most power from each part Jet makes.

JET's quickly growing staff of professional engineers and a highly dedicated team of performance enthusiasts run their everyday operations. Their ability to produce the best tuning in the industry gets you the end results that you want . . . MORE POWER!
Q: Are power programmers truly "plug-and-play"?
A:
Vehicle-specific Power Programmers are truly plug-and-play. Simply attach the programmer to your vehicles ECU or DLC (Data Link Connector). No tools are required, and the programmer will come with instructions. If the programmer is universal, it has to be spliced into your factory ECU.
Q: How do you install a power programmer?
A:
Most power programmers have one cable running from the back of the programmer to the vehicles ECU (Electronic Control Unit), which is often found underneath the passenger side dash. The other place programmers run, depending on your vehicle, is to the DLC (Data Link Connector) which is often under the driver's side dash panel. Once you locate your unit, it's simply a plug-and-play application. Both the ECU and the DLC have ports that the programmers plug into. If it's a universal programmer, you'll have to splice it into the wiring for your factory ECU. It's best to have the installation of a universal programmer left to the pros unless you are very handy under the hood.
See all 8 questions & answers