EXTERIOR
INTERIOR
LIGHTS
PERFORMANCE
SUSPENSION
BRAKES
DRIVETRAIN
AUDIO
WHEELS
GARAGE
Jet Piggy Back Programmers - Power Control Unit

$210.17
For each

Free Shipping!
*Continental U.S. only.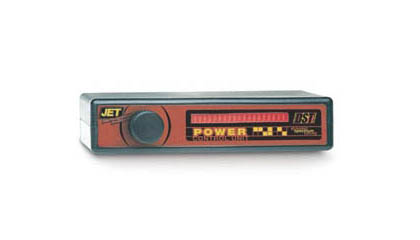 Fits On:

00-02 Chevrolet Impala 3.4L Automatic Transmission, 00-03 Chevrolet Monte Carlo 3.1L Automatic Transmission, 01-03 Oldsmobile ... See more

Description:
If your domestic vehicle doesn't have enough clearance for a Jet Performance Module, or your car's onboard computer lacks a removable chip, you can still enjoy the power advantages of Jet technology. The Jet Power Control Unit For Domestics has the same great power tuning technology as all of their other performance chips and modules. It's an inline tuning device that uses a 20 mHz RISC microprocessor that optimizes your engine's spark advance while recalibrating your fuel maps for optimized horsepower, torque, acceleration and throttle response. With a Jet Power Control Unit For Domestics, you'll see an increase in engine output of a substantial 10 horsepower. The face of the Jet Power Control Unit For Domestics has an LED readout display and an override switch. Available for most domestic compact cars built between 1996 and the present, it is compatible and works well with a wide range of power and performance upgrades such as custom intake and exhaust systems, mass air sensors, TBI spacers and more. To get the most out of your Jet Power Control Unit For Domestics, the company recommends the use of at least 89 octane fuel or better. Try one today and experience the difference! Car enthusiasts certainly deserve superb support and help when they buy high-quality auto parts from us. To help you get that, we created an always-online sales help hotline to aid you with your calls.
Jet Performance Products is a proven leader in automotive tuning technology. Their background in tuning started with Jones Performance Fuel Systems over 40 years ago. Their Fuel Systems Division has given them the opportunity to tune everything from NHRA drag race cars, off-road race trucks and Sprint Cup cars. This experience has been the basis for the Jet line of performance tuning products for street applications. JET's engineering staff is unsurpassed and considered to be the best tuners in the industry.

Constant changes in computer technology of today's cars and trucks demand that the JET engineering staff be the best. Automotive computer systems progress daily, just like every form of technology, so Jet are dedicated to providing the customer with the latest in performance tuning technology possible. Extensive research and development, dyno testing and constant fine tuning ensures the most power from each part Jet makes.

JET's quickly growing staff of professional engineers and a highly dedicated team of performance enthusiasts run their everyday operations. Their ability to produce the best tuning in the industry gets you the end results that you want . . . MORE POWER!
Q: How do you install a power programmer?
A:
Most power programmers have one cable running from the back of the programmer to the vehicles ECU (Electronic Control Unit), which is often found underneath the passenger side dash. The other place programmers run, depending on your vehicle, is to the DLC (Data Link Connector) which is often under the driver's side dash panel. Once you locate your unit, it's simply a plug-and-play application. Both the ECU and the DLC have ports that the programmers plug into. If it's a universal programmer, you'll have to splice it into the wiring for your factory ECU. It's best to have the installation of a universal programmer left to the pros unless you are very handy under the hood.
Q: Are power programmers truly "plug-and-play"?
A:
Vehicle-specific Power Programmers are truly plug-and-play. Simply attach the programmer to your vehicles ECU or DLC (Data Link Connector). No tools are required, and the programmer will come with instructions. If the programmer is universal, it has to be spliced into your factory ECU.
See all 8 questions & answers