J S Products (steelman) EngineEAR® II Electronic Stethoscope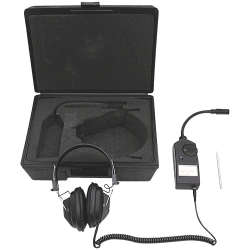 Fits On:

Description:
Features and Benefits:

•dB Meter has 7 sound level control settings - 60 dB to 120 dB for super sensitive noise pick-up and limited distortion of unwanted sounds
•Hi - Low setting on db Meter allows interpretation of sound on both levels
•dB Meter allows user to detect when battery is low
•Professional headphones shut out surrounding sound
•Non conductive microphone - will not zap expensive computer circuitry

Flexible shaft reaches the tightest areas. Quickly pinpoints noise and location of worn bearings and bushings; noisy valves and lifters; broken, worn gear teeth; faulty fuel injectors, wind or air leaks; annoying squeaks and rattles.
Not able to find what you are looking for?

Proform 66766 Blue Adjustable Ring Compressor 4.000-4.090 Engine Building Tool
CAM CHECKEr W/ DIAL ENGINE BUILDING TOOLS 0-1.000" dial indicator Proform 66838