Aero "View" Interior And Exterior Glass And Surface Cleaner (1 Gallon)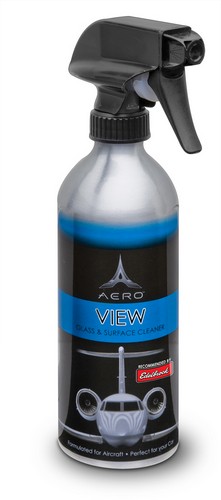 Fits On:

All Cars (Universal), All Jeeps (Universal), All SUVs (Universal), All Trucks (Universal), All Vans (Universal), All Vehicles ... See more

Description:
VIEW 1 gallon:
Nothing says "clean car" better than having perfectly clean, streak-free windows and mirrors. At International Aero, when challenged with detailing the world's most exclusive aircraft, we needed nothing less than the perfect window cleaner. Our team invented VIEW, the ultimate glass cleaner. Not only will it remove the thousands of miles of dirt picked up in the atmosphere, but leaves the glass surface clean, clear and streak-free. If it performs this well on jets, just imagine the beautiful results you will receive on your car. VIEW Glass Cleaner is excellent for cleaning all glass surfaces. It quickly dissolves fingerprints, smudges, dust and dirt while leaving glass and mirrors with a brilliant streak-free shine. This fast acting formula does not streak and will not leave any residue making everything on your car from automotive glass to headlights crystal clear. The ammonia-free product is safe, yet powerful enough to remove unsightly dirt and grime.

Features
• Interior and Exterior Glass and Surface Cleaner
• Streak- free
• Ammonia-free
• Dissolves fingerprints, smudges and dirt
• Recommended by Vic Edelbrock Jr.

Directions for use: Apply VIEW to a clean towel or sponge and lightly wipe on window to wet the surface and lift any dirt. With a cleann dry towel, wipe the surface to a clean, clear shine.

Tips: For GLASS windows always clean inside windows with a side to side motion. and exterior with a top to bottom motion. This way if there are streaks, you can quickly identify if the streaks are on the inside or outside. For PLASTIC or poly carbonate windows, ALWAYS wipe using in a top to bottom motion to prevent crazing.
Not able to find what you are looking for?

(2) Air Cleaners 1991-1995 Jeep Wrangler (OEM 53006317)
Martin Senour MS 7238 - Glass Cleaners
3M MMM08888 - Glass Cleaners, 3M(TM) Glass Cleaner