Aero "Polish" Aluminum And Metal Polish (1 Gallon)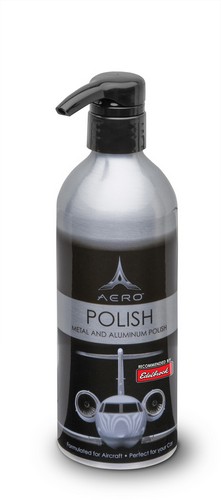 Fits On:

All Cars (Universal), All Jeeps (Universal), All SUVs (Universal), All Trucks (Universal), All Vans (Universal), All Vehicles ... See more

Description:
POLISH 1 gallon:
Delivers shine and protection to aluminum, stainless steel, chrome, gold, silver, copper, brass and magnesium. Other paste-type polishes only permit small areas to be shinned at once. Their polishing products cannot be allowed to dry or they become difficult (if not impossible) to remove. But with POLISH, users can polish an entire surface, allow it to dry and simply dust it off. What's left is a beautiful shine without the repetitive rub-on, wipeoff exercise required by other polishes. This product actually has certain proprietary ingredients that allow our POLISH to become finer and finer the more you rub it in. Essentially, you're starting with a metal polish that begins with the necessary grade of compounds to remove oxidation and scratches that dull a metals surface, and as it's used it breaks itself down to a finer and finer material until it becomes the finest level of polish available, leaving a shine and luster that would normally require you to use many different products to achieve this level of shine. Best of all, it's effortless to use and once allowed to dry, it's a simple "wipe off".

Features:
• Polish
• Aluminum and Metal Polish
• Shines and protects aluminum, stainless steel, chrome, gold, silver, copper, brass and magnesium.
• Removes oxidation and scratches
• Can be "dusted off" after drying
• Recommended by Vic Edelbrock Jr.

Directions for use: For use on any "non-coated" Aluminum, Brass, Bronze, or Copper surface. Apply a small amount of POLISH to a clean soft towel and work into metal using a "back and forth" motion until product turns black in color. Allow POLISH to dry to a haze. Wipe off product with a clean dry soft cloth to buff to a shine. Work on a small area each time. Test on a small inconspicuous spot first to check for any issues.