Innovative Products Of America 1/4" Quick Drive Flexible Extensions With Locking Set Screw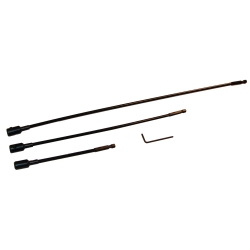 Fits On:

Description:
Features and Benefits:

•Three piece set 6" , 12" and 18" flexible extensions
•Use on 1/4" drive applications
•Low profile female end features a locking set screw for a positive grip
•Use with 8001D bore brush set for accessing transmission valve bodies and similar hard to reach applications
•Use for hand torque applications only

Locking set screw on the female end sets flush to ensure access to cramped areas without loosing the bit. Perfect for use with the bore brush set 8001D.
Not able to find what you are looking for?

Proform 66766 Blue Adjustable Ring Compressor 4.000-4.090 Engine Building Tool
CAM CHECKEr W/ DIAL ENGINE BUILDING TOOLS 0-1.000" dial indicator Proform 66838