EXTERIOR
INTERIOR
LIGHTS
PERFORMANCE
SUSPENSION
BRAKES
DRIVETRAIN
AUDIO
WHEELS
GARAGE
Infinity 1200W Max, Kappa Series 4-Channel Amplifier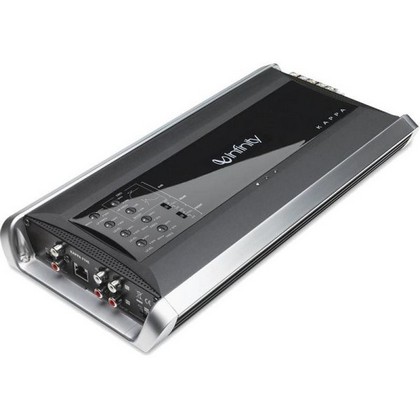 Fits On:

All Jeeps (Universal), All Vehicles (Universal)
Description:
• Infinity KAPPA 4-Channel Class D Car Amplifier
• RMS Power Rating:

• 4 ohms: 125 watts x 4 chan.
• 2 ohms: 150 watts x 4 chan.
• Bridged, 4 ohms: 300 watts x 2 chan.

• Max power output: 300 watts x 4 chan.
• DirectFET transistors for increased power output
• Remote bass level input (remote level control sold separately
• LED power indicators for DC output, over/under voltage, and Short circuit protection
• Tuned Bass EQ (0-12 dB bass boost at 50 Hz)
• High-power class D circuit topology
• 4/3/2 Channel operation
• Speaker-level inputs
• 3-Way Smart System Protection
• Heavy duty heatsink for extreme heat dissipation
• RCA level inputs
• Screw terminals
• Variable high-pass filter (32-320 Hz, 12 dB/octave)
• Variable low-pass filter (32-320 Hz, 12 dB/octave)
• Frequency response: 10-75,000 Hz
• Dimensions: 13"D x 7-1/16"W x 1-3/4"H
Infinity has been in the business of producing audio equipment since 1968. The Stamford, Connecticut based company started off manufacturing loud speakers but over the years has greatly expanded their lineup to include a host of mobile audio products. With a commitment to innovation and technology they have managed to stay at the front of the field and have even been trusted enough to provide audio equipment to several OEM manufacturers including Hyundai and Mitsubishi. With superb service, top notch products and an excellent reputation, Infinity has earned their place as one of the best in the mobile audio business.
Q: What is a Mono-Block Amplifier?
A:
A Mono-Block amplifier is a two channel amplifier, but unlike many stereo amps the two channels are separated into two different systems. The main benefit of this type of setup is that it helps to eliminate cross talk or interference between the two channels, allowing for better sound quality. Mono-Block amps also operate with greater efficiency than most stereo amps. The biggest down side of a Mono-Block is that they cost nearly twice as much as an equivalent stereo amp, so you'll have to decide for yourself if the extra cost is worth it for a sound that is not interfered with and perfectly clean.
Q: How many watts should I make sure my amplifier can handle? How do I know which wattage is best for me?
A:
Matching your amplifier's power with your speakers is of utmost importance to a good sounding stereo system. If you are planning on running large subwoofers for added bass you should know that subs need a lot more power (around four times more) than the other component speakers in your system. There is no set amount of power that is best for a car stereo system but usually the more power you can run, the richer and fuller the sound quality will be from the system. The most important thing is to match the amp to the speakers you are using. If you are going to run four mid-range speakers and they can handle 50 watts a piece then you'll want an amp that can supply close to 50 watts per channel. In that same system you may run a subwoofer that can handle 200 watts, in which case you will need an amp that can supply at least 150 watts to the sub.
See all 7 questions & answers