EXTERIOR
INTERIOR
LIGHTS
PERFORMANCE
SUSPENSION
BRAKES
DRIVETRAIN
AUDIO
WHEELS
GARAGE
Infinity 1200W Max, Kappa Series 5-Channel Amplifier

$330.38
For each

Free Shipping!
*Continental U.S. only.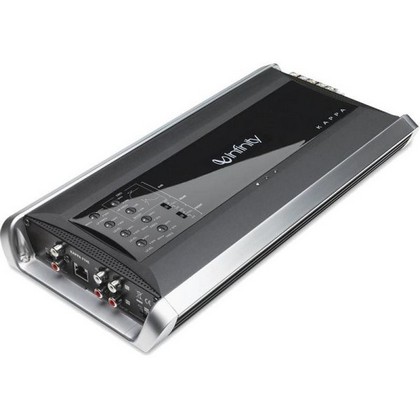 Fits On:

All Jeeps (Universal), All Vehicles (Universal)
Description:
• Kappa Series 5-Channel Class D Car Amplifier
• RMS Power Rating:

• 4 ohms: 50 watts x 4 chan. + 200 watts x 1 chan.
• 2 ohms: 75 watts x 4 chan. + 300 watts x 1 chan.
• Bridged, 4 ohms: 150 watts x 2 chan. + 200 watts x 1 chan.

• Max power output: 1200 watts
• MOSFET power supply
• DirectFET technology transistors
• 3 LED indicators (2 power, 1 protect)
• Bass Boost (0-12 dB bass boost)
• 5/4/3 Channel operation
• Dynamic Bass Optimization (DBO): Fine-tune the bass in your system to optimize performance. The frequency control also acts as a subsonic filter Protection Circuitry (DC output, over/under voltage, short circuit)
• Non-Stop Thermal Protection (The amplifier will gradually reduce output to cool the amplifier down instead of shutting it off if it overheats)
• Variable high-pass filter (32-320 Hz, 12 dB/octave)
• Variable low-pass filter (32-320 Hz, 12 dB/octave)
• Frequency response(Full Range): 10-75,000 Hz
• Frequency response(Subwoofer): 20-320 Hz
• Dimensions: 14-3/16"L x 7-1/16"W x 1-3/4"H
Infinity has been in the business of producing audio equipment since 1968. The Stamford, Connecticut based company started off manufacturing loud speakers but over the years has greatly expanded their lineup to include a host of mobile audio products. With a commitment to innovation and technology they have managed to stay at the front of the field and have even been trusted enough to provide audio equipment to several OEM manufacturers including Hyundai and Mitsubishi. With superb service, top notch products and an excellent reputation, Infinity has earned their place as one of the best in the mobile audio business.
Q: What is the difference between a mono amplifier, a two-way amplifier, and a four-way amplifier? Which one should I buy?
A:
When choosing an amplifier it is important to know what your goals are for your sound system. If you want to power a single subwoofer a mono amplifier is a good choice. A mono amplifier is a single channel amp that is ideal for low frequency situations because our ears cannot hear the difference between stereo and mono when the frequency is that low. Two-way amplifiers have two channels and are also often used to power sub-woofers however they can also be used with smaller full range speakers, but they cannot be used with both subs and mid-range speakers at the same time. A Four-way amplifier is the most versatile unit of the bunch. It features four output channels and is best suited for use in multi-speaker setups when you want to power four or more mid-range speakers or a combination of full-range speakers and subwoofers.
Q: What is a Mono-Block Amplifier?
A:
A Mono-Block amplifier is a two channel amplifier, but unlike many stereo amps the two channels are separated into two different systems. The main benefit of this type of setup is that it helps to eliminate cross talk or interference between the two channels, allowing for better sound quality. Mono-Block amps also operate with greater efficiency than most stereo amps. The biggest down side of a Mono-Block is that they cost nearly twice as much as an equivalent stereo amp, so you'll have to decide for yourself if the extra cost is worth it for a sound that is not interfered with and perfectly clean.
See all 7 questions & answers