HushMat 12"x12" Ultra Insulating/Damping Material Speaker Kit - 4 Piece (Black Foil)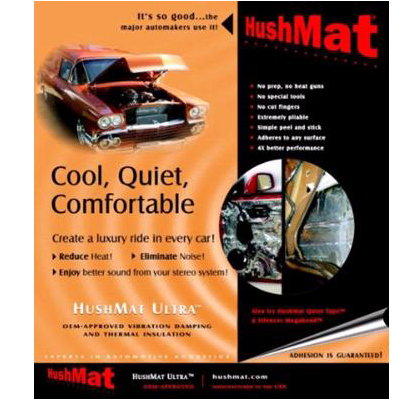 HushMat 12"x12" Ultra Insulating/Damping Material Speaker Kit - 4 Piece (Black Foil)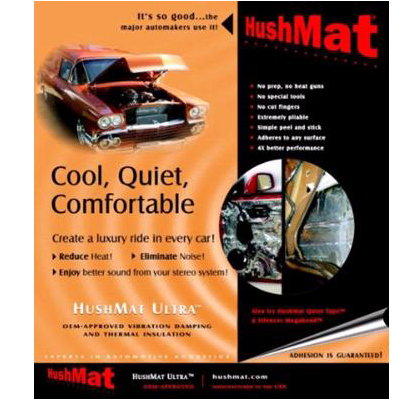 Fits On:

All Jeeps (Universal), All Vehicles (Universal)
Description:
HushMat Ultra Black Foil Starter Kit with Damping Pad is designed to eliminate the road noise and vibration. This starter kit reduces the heat of the vehicles up to 40 percent. It is engineered to match the OEM specifications and is approved. This starter kit can withstand and perform from minus 30 degree Fahrenheit to 400 degree Fahrenheit. It does not require any surface preparation and wraps easily around the tight areas. This starter kit is easy to install and does not require drilling.
Nobody likes a loud car, unless of course you're talking about the rumble of your exhaust or the sound of your speakers. To a car enthusiast, things such as road noise and vibration can take away from the driving experience, which is why HushMat was created. The company actually got its start by providing sound damping materials to General Motors, and then eventually to every manufacturer in the United States, Mexico, and Canada. Eventually, HushMat began to offer its OEM-approved insulation to the public, where is has enjoyed even more success. Hot rod and custom car builders worldwide now use HushMat to reduce the effects of road noise and vibrations, as well as to insulate car interiors from excessive heat. If your car could use a little peace and quiet, we think HushMat could be the ticket.
Q: What does sound proofing do? Why buy sound proofing?
A: The job of sound proofing is to set up an acoustic barrier that helps keep road noise out and your car stereo's sound in. This will make your stereo more efficient and help the acoustics of your car's interior by reducing echoes, drones and rattles. Just like thermal insulation in your house, sound proofing usually comes in sheets or in spray on form and is installed on the large surfaces of your car (under carpets, trunk floors etc.) that would normally let sound through and also echo, rattle and reverberate sound waves. When installed sound proofing helps to transform the cabin of your car into a pleasant and quiet place to drive, until you turn on the stereo and then you receive the full sound potential from your car audio system.


Not able to find what you are looking for?

Roll of Single Sided Auto Interior Heat Shield & Sound Proofing Insulation
Roll of Auto Interior Double Sided Heat Shield & Sound Proofing Insulation
50 SqFt GTMAT Sound Deadener Proofing Thick Insulation Material+Dynamat Sample
2011 PORSCHE 911 GT3 ROOF FOAM BODY SOUND PROOFING INTERIOR FACTORY OEM -420A
2011 PORSCHE 911 GT3 ROOF FOAM BODY SOUND PROOFING INTERIOR FACTORY OEM -420B