Hotchkis Convertible Chassis Max Kit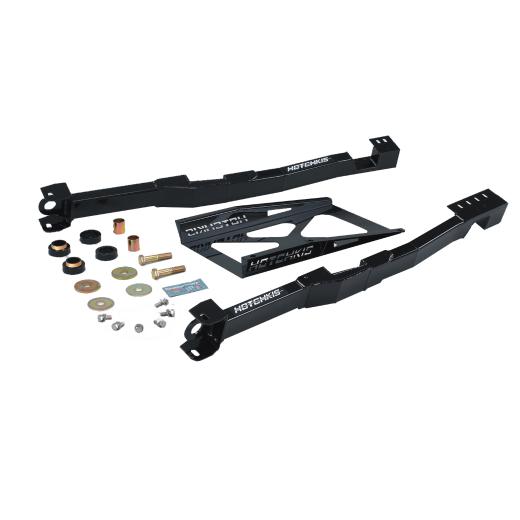 Hotchkis Convertible Chassis Max Kit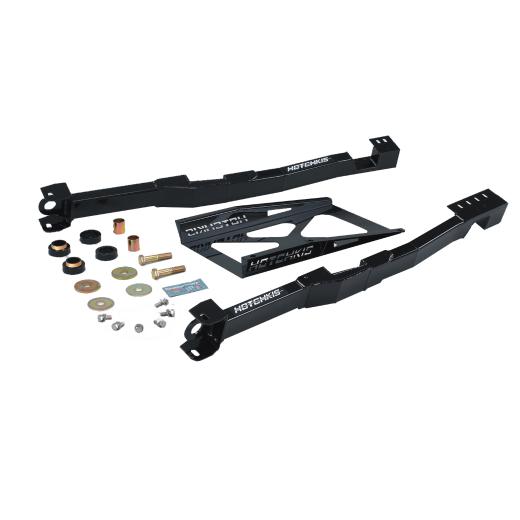 Fits On:

67-69 Chevrolet Camaro, 67-69 Pontiac Firebird
Description:
Description:

High-power engines and sticky tires often make first generation Camaro´s and Firebirds drop tops twist under pressure. The Hotchkis Sport Suspension Chassis Max System for 1967-69 F-Body Convertibles strengthens the chassis by adding structural integrity that drastically improves handling. Chassis Max exclusive cross brace and subframe connectors attach easily to the leaf spring pickup points, making your F-body rock solid. Hotchkis designed the system to work with up to 3-inch diameter dual exhaust. The superior multi-piece design contours around the undercarriage, maintaining ground clearance and a clean look. All three components in the Chassis Max System are CAD designed and manufactured in the USA using precision CNC machines. A durable gloss black powder coat finish means the parts won't chip or crack, and all necessary polyurethane subframe mount bushings and hardware is included.

Features:

X Brace
•TIG Welded
•Powder Coated Gloss Black Finish
•Stainless Steel Hardware
•Fabricated From 10 Gauge Steel
•Laser Cut Hotchkis Logo
•CNC construction for easy installation

Sub Frame Connectors
•Powder Coated Gloss Black Finish
•MIG Welded
•Fabricated from 1.5 x 2.5 .120 wall steel.
•Urethane front body mount included
•Rear mount is weld in; front mount is bolt in with option to weld.
•Does not require cutting or modifying the floor.

Benefits:

•Adds substantial rigidity to chassis
•Significantly reduces chassis flex
•Improves vehicle handling and traction
•Reduces stress on vehicles valuable body
•Allows for the use of Flowmaster and other popular 3" tube exhaust systems

Specifications

•Lbs. 45
•Dim. 53x18x6
For most automotive enthusiasts the name Hotchkis conjures up images of high performance machines hugging corners at high speeds. Hotchkis Sport Suspension is well regarded as one of the best suspension tuning companies in the world. Based in Santa Fe Springs, CA they have rewritten the rule book on suspension design with an assortment of innovative well-designed products that can absolutely transform a vehicles handling. With a proven record in the motorsports arena in all forms of competition from road racing to drag racing, Hotchkis has shown that their products are superior in both performance and durability. In addition they make all of their products locally right here in the USA. With two decades of automotive experience going into every design, Hotchkis truly knows what it takes to be number one.
Q: What are subframe braces? Why buy them?
A: A subframe brace is a structural device that links the lower portion of your vehicle's suspension to provide increased rigidity and reduced deflection to improve handling, vehicle control, and safety. Most modern rides rely on subframes to attach the suspension components to the chassis. These subframes can twist and deflect under harsh driving conditions causing sloppy and unpredictable handling characteristics. On the track this can mean valuable seconds, but on the street it can be a safety hazard as well. By firmly connecting and reinforcing your suspension components with a subframe brace you will have more predictable handling which will improve your confidence and help keep your vehicle both safe and fast as you drive down the road. In addition the added strength of a subframe brace can improve the lifespan of suspension components and the overall reliability of your ride.


Not able to find what you are looking for?

Fabricated K-Member to Front Subframe Reinforcement Braces | 1982-1992 GM F-Body
SUBFRAME MOUNTING BRACES LH + RH PAIR 67-69 CAMARO
Subframe braces bridges brackets cross overs GSXR750 gsxr 750 09 08 suzuki #D12
SUBFRAME AND AFT BRACES
SUBFRAME AND AFT BRACES