EXTERIOR
INTERIOR
LIGHTS
PERFORMANCE
SUSPENSION
BRAKES
DRIVETRAIN
AUDIO
WHEELS
GARAGE
Harwood Fiberglass Body Kit - Front End - Race Use Only! Not Intended For Street Vehicles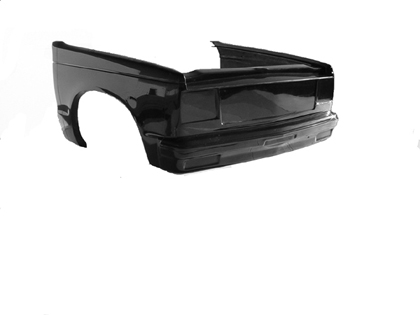 We did your comparison shopping for you!
Why are we showing competitor prices? Click Here
Video Description:


Check out this episode of Andy's Auto Sport TV where we explain what the difference is between fiberglass and poly-urethane. Most body kits are made out of one or the other, and we give you every insight you'll need in order to make an informed buying decision. Check it out!

Video Description:


Simply put, your body kit will NOT come painted. In this video:

*At 0:15, we explain how your body kit will arrive, and what kind of prep work you will have to do before installing your new body kit.

*At 0:37, we tell you what to expect when ordering carbon fiber body parts.
prev
next
Fits On:

Description:
For over 35 years Harwood has been the leader in new product design and innovation for the racing and street performance industry. Every part manufactured by Harwood is built exclusively in their 6 acre facilities by experienced composite technicians who take pride in their work and appreciate seeing the final results of their efforts on a customer's car.

Harwood's Street and Race Car Products have set the highest standards for aftermarket fiberglass and race car components. With multiple N.H.R.A. Best Engineering Awards, Composite Industry Awards and countless honors for product development, their technicians work hard to stay on the forefront of leading technologies.

Every Harwood part is hand-laid by skilled technicians using only the highest quality composites available. Molds are constantly renewed to ensure quality fit and finish. Harwood's sales staff and new product design team work closely with customers, race teams, and other manufacturers to ensure every new product works as well as it looks. Each new part is tested and proven on the street and/or track prior to production.

From new product design, construction, to the final boxed part ready to ship, Harwood takes no shortcuts. Each part is inspected several times prior to shipping. They are committed to providing the quality products you have come to expect from Harwood, "The Most Respected Name in Fiberglass."
Harwood Industries has been one of the leaders in fiberglass body parts for years, supplying hoods, trunk lids, bumpers, fenders, and even doors to serious racers since its beginning. Lightening up your car or truck with fiberglass body panels makes your vehicle more responsive, and makes it faster since it doesn't have to carry as much weight. If you're planning on going with 'glass for your track car, Harwood products might be a good match for you since they're made to be as light as possible. Of if you just want to get a custom look for your car, you can expect a quality product from a brand like Hardwood.
Q: What's the difference between fiberglass and poly-urethane body kits?
A:
The difference between fiberglass and poly-urethane body kits is that they are made from different composite materials. Both types of materials have positive qualities. Urethane is a rubber-type material that is very flexible and will hold up well in the case of an accident. Urethane is therefore popular for its durability. Fiberglass body kits in general are less flexible than urethane body kits (although this definitely depends on the manufacturer), but are more resistant to extreme weather conditions. Additionally, paint adheres very well to fiberglass, so there likely will not be paint problems with a fiberglass. Finally, fiberglass kits are relatively inexpensive. Both composites are used widely throughout the world for body kit manufacturing, and each has proven to be very popular.
Q: Are body kits and ground effects the same thing?
A:
Yes. Ground effects, body kits, spoiler kits, bumper kits and aero kits are all terms that mean the exact same thing.
See all 6 questions & answers