EXTERIOR
INTERIOR
LIGHTS
PERFORMANCE
SUSPENSION
BRAKES
DRIVETRAIN
AUDIO
WHEELS
GARAGE
Gsi 3 RCA To USB Cable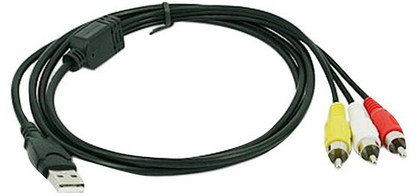 Gsi 3 RCA To USB Cable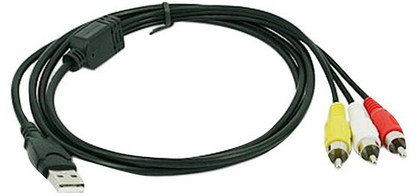 Fits On:

All Jeeps (Universal), All Vehicles (Universal)
Description:
1 x USB male connector
1 x male RCA video, 2 x male RCA audio
View images and videos from camcorders on USB-enabled TVs and PCs.
This cable does not transfer data, it is only for viewing images
This cable allows you to view pictures and videos from camcorders on your USB-enabled television or on your PC. This item does not come with any software and HDE cannot provide any. THIS CABLE WILL NOT WORK FOR CONNECTING A COMPUTER TO A TV. You cannot get an image signal through a USB port that way. This cable is not transferring data or files, it is only for viewing images on RCA-equipped camcorders.
While most audio companies focus on speakers, woofers, amplifiers and head units, the folks at GSI understand that the glue which holds a sound system together are the cables and connectors. They have carved out a great niche providing high-end cables and connectors to give your OEM or aftermarket stereo system the ultimate in sound quality. Based in Brooklyn, NY GSI is a small company, but their passion for mobile audio is enormous. Their staff is both knowledgeable and friendly to ensure that you get the very best technical assistance and keep using GSI for all of your audio cable and connector needs. All of their products are made to meticulous standards using the highest grade raw materials to guarantee that you receive unparalleled performance from your GSI components.
Q: What are the different types of cables I might need for a custom audio or video setup in my vehicle? What does each type do exactly?
A: There are several different types of cables involved in a custom car audio setup. Plain old electrical wire is often used to hook up your head unit to a 12 volt power source however amplifiers use much heavier gauge power wires because they are high power applications. Most power wires are red in color and ground wires should be black in color to avoid confusion. Remember don't skimp out on the ground wire, make sure it is large and high quality to ensure your system keeps working right. Speaker wire or speaker chord is a specialized form of woven copper wire used to connect your speakers to the rest of the system. These wires come in pairs (two wires connected side by side) and are sometimes bare on the end but often times have male RCA style end-fittings. Often times recognized by its transparent insulation it usually comes in a large gauge for better sound quality. Patch cables are thick paired cables with male RCA style fittings used to connect various car audio components but most commonly used to connect the head unit to the amplifier. Remember when you see RCA connectors if they are red and white that usually indicates an audio signal and yellow indicates a video signal. There are also cables that allow you to run an iPod into your head unit that consist of a small chord with 1/8" male stereo connectors (like your iPod headphones have) on either end. One end goes into the iPod output and the other end plugs into your car stereo's accessory input.