EXTERIOR
INTERIOR
LIGHTS
PERFORMANCE
SUSPENSION
BRAKES
DRIVETRAIN
AUDIO
WHEELS
GARAGE
Grant Formula One Steering Wheel 13.75" - Black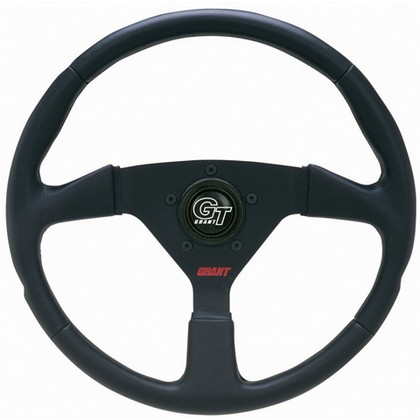 Grant Formula One Steering Wheel 13.75" - Black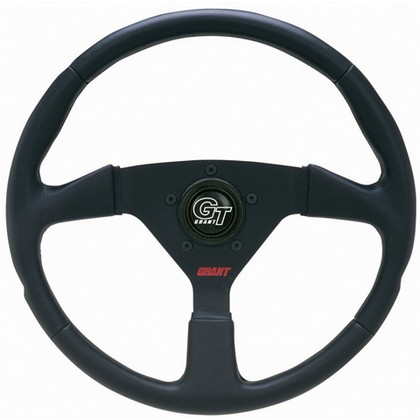 Grant steering wheels feature timeless classic design as well as new age racing style. Give your interior the look that stands apart from the rest with a Grant steering wheel.
Q: Why buy a steering wheel?
A: Nothing adds a more dramatic new look to your interior than a custom steering wheel. It gives your car that race feel that really makes driving enjoyable.

Q: How do you install a steering wheel?
A: A steering wheel is installation is a bolt-on procedure once the hub is installed. When your hub is installed there are screws in the center of the steering wheel that attach to the face of the hub. Screw down all the hardware and you will be good to go.

Q: Do you need to buy anything with the steering wheel to make sure it installs properly?
A: All steering wheels require a car specific hub adapter for installation. You cannot install the steering wheel without the hub adapter. Depending on the steering wheel, most use either 6-bolt hubs or 5-bolt hubs.

Q: Can I install an aftermarket steering wheel on my airbag-equipped vehicle?
A: In recent years, certain aftermarket steering wheel manufacturers have started producing airbag-equipped wheels for newer, popular applications (such as newer Ford Mustangs), so owners of more contemporary vehicles may be in luck if they want a more stylish steering wheel. While it is possible to replace your airbag steering wheel with a more traditional aftermarket steering wheel and hub adapter, there are some issues to take note of if doing so. First, you will obviously lose the airbag itself, and your airbag warning light will likely stay on. Second, you may lose any functions that your factory steering wheel allows, such as radio controls and/or cruise control. Finally, there are some instances where you will lose the self-cancelling feature of your turn signals. In the end, it's up to you to decide how comfortable you are not having an airbag in your steering wheel, and we can make no claims as to the legality of making any changes to your safety restraint system. The National Highway Traffic Safety Administration does not currently prohibit private individuals from removing the airbags in their vehicle, although repair shops are prohibited from doing so and state laws may differ from federal laws.