G2 Caliper Paint - High Temperature Brake Caliper Paint System Set (Orange)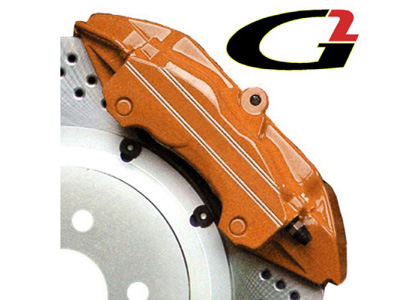 G2 Caliper Paint - High Temperature Brake Caliper Paint System Set (Orange)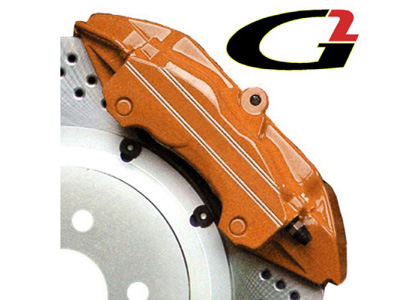 Fits On:

All Jeeps (Universal), All Vehicles (Universal), Universal - Fits all Vehicles, Universal - For Use on All Vehicles
Description:
Each kit is hand-assembled and all of materials are 100% made in the USA! Included is a high-performance aerosol caliper cleaner, mixing can, stirrer, application brush, installation instructions and a color decal.
We used to paint our brake calipers the same way everyone else we knew used to do it: with an off-the-shelf rattle-can in our favorite color. The problem was, it looked like a rattle-can paint job, especially once it started flaking off. Even with some good prep work, normal paint just isn't made to take the extreme heat of a braking system, and that's where G2's line of high-temperature paint kits come in. Starting with a line of specially designed paints and prepping agents, G2 eventually expanded its line to include engine paint kits, and specially made cleaners. If you're going to go through the effort of painting your brake calipers or drums, or even your engine, you should do it right the first time and use products that are designed to withstand the abuse. With that in mind, we think G2's line of high-temp paint kits are a good way to go.
Q: What is caliper paint? Why buy it? What makes caliper paint different than other types of paint?
A: Brake calipers are usually pretty dirty and dingy components that do not receive a lot of love. Even if you clean them up their dull finish does not pop behind your big beautiful aftermarket wheels. And calipers that have been powder coated or painted often have problems with pealing clear coat straight from the factory. Caliper paint is the perfect product to remedy both of these situations. The paint is available in numerous different colors so that you can pick the perfect color to match your wheels or vehicle paint, or pick a contrasting color that will really stand out behind your wheels as you drive down the street. In addition you can find a color to match your original caliper color for smaller touch up and blemish jobs.

Caliper paint is not any ordinary paint. It has been specially formulated to handle rigors of life on a brake caliper. Brake calipers lead a tough life. They heat up to extreme temperatures well in excess of 500 degrees, and are exposed to hot brake dust, chemicals such as brake fluid, and plenty of road debris. Caliper paint can stand up to high temperatures upwards of 900 degrees Fahrenheit, is highly chemical resistant and is burley enough to guard against chips and scratches as well. Many caliper paints have a special two part formulation and require careful mixing and application so be sure you follow the specified instructions when painting your calipers.


Not able to find what you are looking for?

New POR-15 Caliper Paint - Red - 8 oz
RED G2 USA Brake Caliper Paint System *FREE SHIPPING *Ships in 24 Hours
Silver Gloss G2 Highest Heat Resistance Upto 950°F Epoxy Brake Caliper Paint Kit
SILVER G2 BRAKE CALIPER PAINT EPOXY STYLE KIT FREE SHIP
Dupli-Color YELLOW Brake Caliper Paint with Ceramic KIT - Part DUP BCP401 Break