EXTERIOR
INTERIOR
LIGHTS
PERFORMANCE
SUSPENSION
BRAKES
DRIVETRAIN
AUDIO
WHEELS
GARAGE
Eibach Pro-Alignment Camber Shim Kit - Rear - Camber +/-1.5, Toe +/-1.5 Degrees Of Adjustment.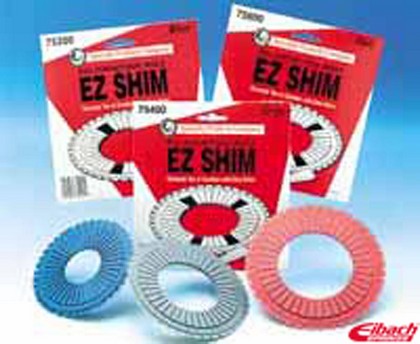 After the installation of springs, a vehicle's alignment should always be checked, since wheel camber may become excessively negative (meaning the top of the tire is angled inward toward the center of the vehicle). Eibach's camber kits provide for correct alignment, which allows handling to become crisp and predictable after lowering your vehicle.
Q: What do camber kits do? Why buy camber kits?
A: Any amount of ride height change will cause the camber of your tires to change. This means that instead of the tires being perfectly perpendicular to the grant, they will be slight slanted, inward in the case of negative camber, outward in the case of positive camber. It might not always be visible, but having your camber out of adjustment will cause the tire to run on the inside or outside edge only since the tires will be slanted relative to the ground. The lower you go the more negative camber you will get and the faster the tire will wear. There are different camber kits available to combat this problem; the correct kit is determined by how much your camber is away from the factory recommended specification.

Q: Do camber kits come in sets of 4?
A: No, unless otherwise noted, camber kits are sold in sets of 2, so you buy one set for the front and/or one set for the rear.

Q: How do you install camber kits?
A: Depending on the car you drive, camber kits are comprised differently. Contact us for installation details, or simply have it installed by professionals.