EXTERIOR
INTERIOR
LIGHTS
PERFORMANCE
SUSPENSION
BRAKES
DRIVETRAIN
AUDIO
WHEELS
GARAGE
Earthquake Amplifier Kits True Copper (5000 Watts, 4 GA. With RCA & Speaker Wires, ANL Fuse Holder)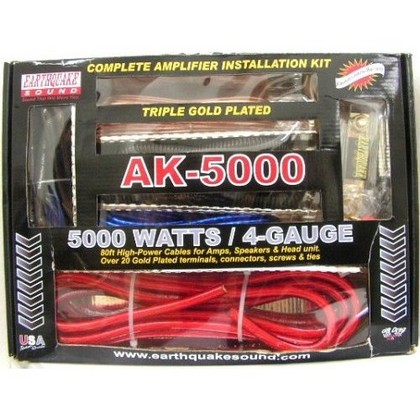 We did your comparison shopping for you!
Why are we showing competitor prices? Click Here
Video Description:


In this episode, we interviewed Joseph Sahyoun, owner of Earthquake Audio, in an effort to uncover what makes Earthquake such a solid company and what makes their speakers hit so hard! This guy is a grandfather in the industry, so there's a lot to be learned by watching this. Here are some highlights:

*At 0:47 he explains how the company started in 1984 and his background is as an engineer more than anything.

*At 3:30 he explains very specifically about which ways Earthquake is a leader that sets trends that others follows.

*At 6:10, he explains the patented Piston Max technology Earthquake uses and how it allows for more excursion of the speakers!

*At 16:02, Earthquake says that Andy's is very professional and commends our efforts to educate our customers about the products we sell.
prev
next
Fits On:

All Cars (Universal), All Jeeps (Universal), All Muscle Cars (Universal), All SUVs (Universal), All Trucks (Universal), All Va... See more

Description:
• Kit includes:

• 17ft 4-gauge red power wire
• 3 ft 4-guage black ground wire
• 20 ft 16-gauge speaker wire
• 16 ft 16-gauge blue remote turn on wire
• 18 ft Straight Silver twisted pair RCA interconnect wire
• 6 ft OD 13 mm black split loom
• 150 A gold plated ANL fuse holder

• 4x4-guage ring terminals: 3 red/1 black
• 2 x 4-gauge spade terminals: 1 red/1 black
• 5 x 16-Gauge fork terminals: 3 red/2black
• 4 x 16 gauge female disconnects: 2 red/2 black
• 1 x 16-22 gauge butt connector for remote turn on wire: 1 red
• 1 x self tapping screw: 1 tinned
• 10 x black cable ties, 120mm long
• 1 x grommets in black
The world of car audio can be difficult to navigate, but the people at Earthquake have made it their mission to deliver one stop shopping to audio enthusiasts all over the world. With over a decade of experience they have developed a full line of products that boast high-end sound quality without an outrageous price tag. Based in Hayward, CA the company was founded by enthusiasts and they have proven their products in sound competitions all over the country. With a massive trophy case to prove their clout, Earthquake products are not just about being loud, but also delivering a high quality music experience and a unique look. Backed up by excellent service and expertise, the people at Earthquake look to continue to make their mark for years to come.
Q: How Many Channels Should My Amp Have?
A:
Choosing the right amplifier is an important part of building your car audio system. Choosing the right number of channels for your amplifier is determined by the number of speakers (tweeters, mid-range and sub-woofers) you are planning to run. In most cases you want to run one speaker per channel. Although it is possible to run multiple speakers off of the same channel it is not usually recommended since it wouldn't optimize sound quality. In general, sub-woofers require more power than smaller speakers so in many cases they will require their own dedicated amplifier.
Here is an example of possible set-ups: If you have a vehicle with four mid-range speakers and a sub-woofer you know will need one channel per speaker for all five speakers. You can either run a five channel amplifier with a dedicated sub-woofer channel in it, or you can use a four channel amplifier for the mid-range speakers and a separate mono or two channel amp for the sub-woofer. The latter option will provide the cleanest sound and allow your subwoofer to get all the power it can use, but either option will work.
Q: What is a Class D Amplifier?
A:
A Class D Amplifier is an electronic amp that operates using binary switches so that the amp is either all the way on or all the way off with little to no time spent in transition. As a result, Class D amplifiers are extremely efficient and will make the most use out of limited battery power, such as in an automotive application. These amplifiers are also highly compact and affordable, although they give up a bit in sound quality to more expensive amplifiers.
See all 7 questions & answers