EXTERIOR
INTERIOR
LIGHTS
PERFORMANCE
SUSPENSION
BRAKES
DRIVETRAIN
AUDIO
WHEELS
GARAGE
Crime Stopper Standard 1-Way Car Alarm And Keyless Entry Security System With Two 4-Button Remote Transmitters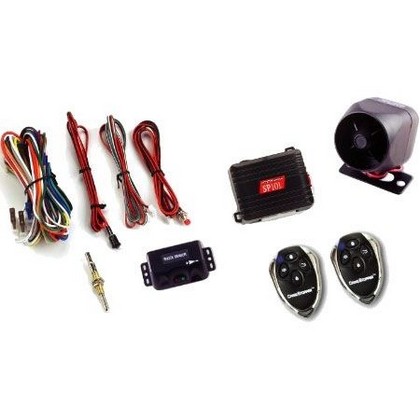 Fits On:

All Jeeps (Universal), All Vehicles (Universal)
Description:
• Crimestopper 1-way Car Alarm and Keyless Entry Security System
• Two 4-button remote transmitters included
• Up to 1500 feet of range
• Two vehicle operation
• Audible and visual arm/disarm with intrusion alert
• Silent arming and disarming mode enables parking lights to flash
• Starter kill output
• Electronic single-stage, single-adjustment shock sensor
• 20 watt high-power mini single-tone siren
• Horn-honk output
• Panic mode alarm will sound siren upon panic command
• Carjack protection feature enables active, passive, and full-time carjack modes
• Separate right / left side parking light outputs for European vehicles
• Trunk release plus (1) auxiliary output
• Emergency override/disarm feature allows to open door and override alarm if transmitter is lost
• Remote key-less entry with programmable double unlock pulse
• Customized sensor adjustment (clockwise: higher sensitivity/counter clockwise: lower sensitivity)
Q: What is a security system? Why buy one?
A: Security systems are electronic devices used to protect your vehicle from break-ins, deter would-be criminals, and help recover your vehicle in the event of a theft. Using precise sensors, alarm systems and wireless GPS locating devices these sophisticated units are the best way to insure that your automotive investment stays safe. These systems can be armed and disarmed remotely using a wireless controller and are often tied into the vehicle's door locks as well. Whether you are worried about your high dollar stereo or your vehicle itself, security systems are the best front line defense. In addition to the added protection of a top of the line security system, these units also have a financial incentive in the form of insurance breaks. Many automotive insurance companies will offer discounted rates for people with a security system installed on their vehicle.