Corsa Exhaust Systems - Twin Pro Series 3-1/2" Tips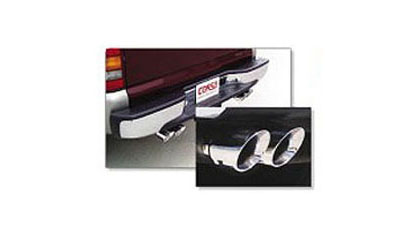 Video Description:


Everything you need to know about exhaust systems is explained on this episode of Andy's Auto Sport TV! We explain what exactly a cat-back exhaust system is, we explain why buying an exhaust system is Step 1 for improving performance, and we give information about how to make a buying decision from all the brands we carry here at Andy's.
Fits On:

90-95 Chevrolet Corvette C4 ZR1 (LT5)
Description:
Corsa Exhaust Systems - Twin Pro Series 3-1/2" Tips
Corsa products are incredibly elite and are meant for those people who want nothing but the absolute best. The company was founded by a Nasa rocket scientist! You can imagine the type of engineering that goes into Corsa exhaust products.

Specifically, Corsa specializes in creating the most precisely-tuned sound available. CORSA Performance leads the performance automotive exhaust industry with its patented Reflective Sound Cancellation (RSC) technology. This non-electrical noise control system, which works without the complication or cost of incorporating the use of electronics or speakers, is now being utilized exclusively with CORSA's performance automotive exhaust systems to provide superior performance and sound while eliminating unwanted interior noise.

In RSC-equipped systems, selected engine sound (pressure) waves are reflected in passages inside the muffler 180 degrees 'out of phase' to cancel out the unwanted sound waves that cause interior drone. The result is a "tuned" muffler that "cleans up" the noise without eliminating the pure sound of power associated with a high-performance vehicle. CORSA's stainless steel mufflers are specifically tuned to each vehicle to eliminate passenger cabin resonance (drone) and to produce just the "right" sound. Reflective Sound Cancellation™ technology product design also allows for the elimination of packing materials that can deteriorate over time, providing a totally un-restrictive exhaust flow for maximum horsepower and torque.
Q: How do you install an exhaust system?
A: Exhaust systems are installed using the supplied hardware, which includes gaskets and high grade bolts. This is truly a bolt-on procedure and most exhaust systems are an exact fit with no modifications needed. For this reason, getting a performance exhaust system is normally considered one of the easiest ways to gain noticeable horsepower for your car.

Q: What exactly does "cat-back" mean when people say "cat-back exhaust"?
A: Many performance exhaust systems are also referred to as cat-back exhausts. Cat-back means that the exhaust piping starts from your catalytic converter and runs back all the way to the exhaust tip(s).

Q: What does an ehaust system do? Why buy an exhaust system?
A: A performance exhaust system is used to increase horsepower for your car by allowing exhaust gases to pass through your exhaust system with less backpressure and less resistance. Larger-diameter piping is normally used, depending on the application, in order to gain more horsepower and torque levels throughout the power band. A performance exhaust system can be the most cost-effective modification you can do to get more horsepower out of your car, not to mention that it will give your car a deeper more aggressive sound. And depending on the brand, performance exhaust systems normally include gorgeous new mufflers that add a great appearance to your car.

Q: Does a cat-back exhaust come with a catalytic converter?
A: No, "cat-back" actually means from the rear of the catalytic converter back, so it will include everything after the converter, but not the converter itself.


Not able to find what you are looking for?

VANCE AND HINES SHORTSHOTS STAGGERED EXHAUST SYSTEM, BLACK, #47229, HD SPORTSTER
MAC 4:1 Full Exhaust System w/ Megaphone Muffler Chrome For Hon CB750/900/1100F
FMF Factory 4.1 RCT Slip-On Muffler Titanium For KTM 350 EXC-F 500 EXC
Akrapovic Racing Line Full Exhaust System For Yamaha YZF R3 2015 S-Y2R1-CUBSS
ducati monster 1100 696 full termignoni exhaust system cans pipes headers