Cobra Power Inverter - CPI 480 - 400 Watt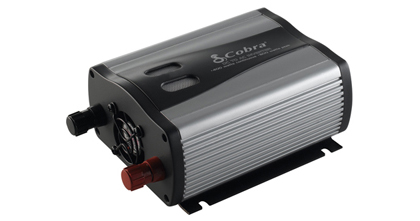 Cobra Power Inverter - CPI 480 - 400 Watt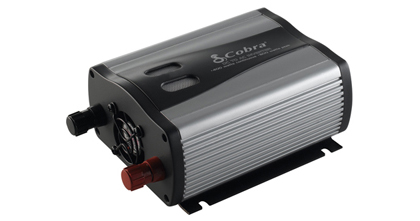 Fits On:

All Jeeps (Universal), Universal
Description:
This inverter provides household power on the go! It converts battery power to 120 V AC household power, allowing you to power up office equipment and household appliances from your vehicle. It also has a USB output, ideal for using/charging most small video games, an IPod®, a Blackberry®, mobile phones, and many more USB devices. Cigarette lighter cord and direct-to-battery cables are included.  This unit is ideal for laptops, 13" TVs, video games, CD players, DVD players, cellular phone chargers, and much more!
Whether you need a set of two-way radios to keep in touch from across the track, or a radar, laser, or safety camera detector to stay out of trouble off the track, Cobra is well-known for being a leader in communications technology. With an ever-expanding line of products being introduced to serve the masses, Cobra has stayed on top of its game with breakthroughs such as the first touchscreen radar detector, and two-way radios with built-in digital voice recorders, which will help ensure that you'll never miss another important message. The company has also introduced a line of GPS devices, Bluetooth accessories, and even manufactures power inverters, so if you're into communications electronics Cobra offers lots of great options.
Q: What does a Power Inverter do? Why buy a Power Inverter?
A: The basic function of a power inverter is to take your vehicle's 12 volt DC power and convert it to 110 volt AC power like you have in your standard home wall outlet. Depending on the amperage rating of the inverter this lets you run a wide array of electrical devices that need AC power to work like televisions, small appliances, power tools or any AC style charging device. This makes them very useful on road trips and camping adventures. Inverters come in a lot of different styles, some are hardwired to the car's battery and some are simple adapters that plug directly into a cigarette lighter outlet. Check your power needs carefully before choosing the right power inverter.


Not able to find what you are looking for?

cobra 1500 watt power inverter # CPI 1575
500W DC 24V to AC 220V + USB Portable Voltage Transformer Car Power Inverter NM
XANTREX FREEDOM 458 81-2010-12 INVERTER/CHARGER
Stanley PC809 800 Watt Inverter
Peak PKC0BO 400-Watt Tailgate Power Inverter New Other