EXTERIOR
INTERIOR
LIGHTS
PERFORMANCE
SUSPENSION
BRAKES
DRIVETRAIN
AUDIO
WHEELS
GARAGE
Clarion 2/1 Channel Power Amplifier

$84.59
For each

Free Shipping!
*Continental U.S. only.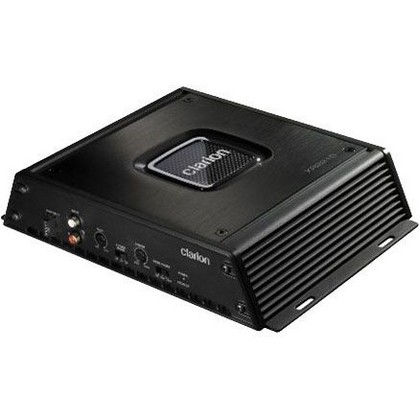 Fits On:

All Jeeps (Universal), All Vehicles (Universal)
Description:
• Maximum Power Output : 200W
• Power @ 4-Ohm : 60W x 2
• Power @ 2-Ohm : 90W x 2 Bridged @ 4-Ohm : 100W x 1
• Number of Channels : 2/1
• MOS-FET Power Supply
• 2-Ohm Stereo Stable
• Selectable Bass Boost; 0/6/12dB @ 50Hz
• Adjustable -12db/Oct.High/Low Pass Crossover, 50-300Hz
• Gold Plated Connectors; RCA/ Speaker/ Power
• Speaker Level Input
• Dimensions(W x H x D)(Inchs) : 7-7/8" x 2-1/4" x 11"
Clarion has been in the electronics industry longer than most. They first began manufacturing battery operated radios in Japan all the way back in 1940. Since then they have left their mark on the history books by creating numerous innovative products including Japan's first car radio and the world's first in-vehicle computer. Today they continue on with this tradition using technology and innovation to push the envelope of what is possible in the automotive electronics world. With their North American headquarters in Cypress, CA they provide excellent service and technical support, and maintain the capability of quickly and efficiently distributing their goods worldwide.
Q: What is a MOSFET Amplifier?
A:
A MOSFET amplifier is a type of stereo amplifier that works exceptionally well in car stereo applications particularly where mid and high range frequencies are important. The word MOSFET is actually an acronym that stands for Metal Oxide Semiconductor Field Effect Transistor. In plain English this just means that there is a highly efficient conductor inside of these amplifiers that helps them be reliable and produce good sound. Not long ago, MOSFET amps were only available as very high-end units, but now the majority of amplifiers are MOSFET type amps.
Q: How Many Channels Should My Amp Have?
A:
Choosing the right amplifier is an important part of building your car audio system. Choosing the right number of channels for your amplifier is determined by the number of speakers (tweeters, mid-range and sub-woofers) you are planning to run. In most cases you want to run one speaker per channel. Although it is possible to run multiple speakers off of the same channel it is not usually recommended since it wouldn't optimize sound quality. In general, sub-woofers require more power than smaller speakers so in many cases they will require their own dedicated amplifier.
Here is an example of possible set-ups: If you have a vehicle with four mid-range speakers and a sub-woofer you know will need one channel per speaker for all five speakers. You can either run a five channel amplifier with a dedicated sub-woofer channel in it, or you can use a four channel amplifier for the mid-range speakers and a separate mono or two channel amp for the sub-woofer. The latter option will provide the cleanest sound and allow your subwoofer to get all the power it can use, but either option will work.
See all 7 questions & answers