Chicago Pneumatic Pistol Grip Pneumatic Torque Wrench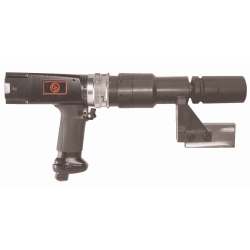 Fits On:

Description:
Features and Benefits:

•Sets precise torque on wheels
•Simple swing bar reaction mechanism for easy alignment and quick operation
•Easier and quicker than a click wrench and requires low operator effort
•Shut off mechanism eliminates torque variation from air pressure changes or need for a separate pressure regulator
•Training will be provided on all tools sold

Blue Tork is a new range of CP Vehicle Service Assembly products offering improvements in efficiency, ergonomics and quality easily remembered as E2Q. This pistol grip shut off nut runner is for finishing lug nuts to specified torque in commercial truck and bus wheel service. The CPT7600-R is a reversible tool that shuts off in left and right hand direction for " Budd" wheels. Low weight (approximately 10 lbs.) for ease of handling, torque working range of 350-660 ft./lbs. with 1" square drive. Torque range is approximate and based on minimum pressure requirement of 70 PSI up to max of 110 PSI. Enhancement of working conditions provides very low noise level, virtually no vibration and low effort operation.