Bride Zeta III Type-S - Black Logo Full Bucket Seat (Fiberglass Reinforced Plastic)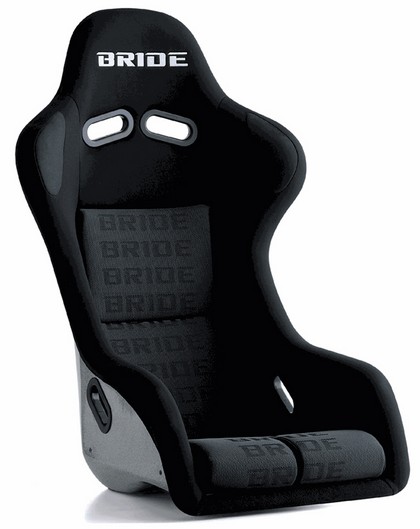 SALE $882.00
For each

Seat Frame : Fiberglass
Color Outer : Black
Reclinability : Bucket
Color Inner : Black
Bride Zeta III Type-S - Black Logo Full Bucket Seat (Fiberglass Reinforced Plastic)

SALE $882.00
For each

Seat Frame : Fiberglass
Color Outer : Black
Reclinability : Bucket
Color Inner : Black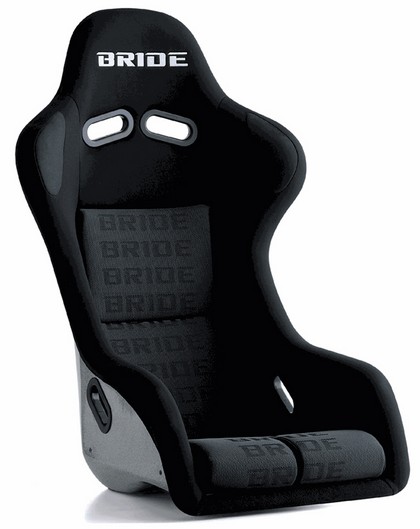 Video Description:


This episode of Andy's Auto Sport TV explains how to install seats and which brackets to buy to make sure your seat installation goes smoothly!

Video Description:


This episode of Andy's Auto Sport TV is a seats overview video that helps you choose which seat to buy. We offer input about whether to get a reclining or fixed-back seat, which seats are most comfortable, which seats are best for the track, which offer the best lumbar support, which are best for muscle car restoration, and which are best for off-roading. We explain how to find a seat that fits your body size.
Fits On:

All Cars (Universal), All Jeeps (Universal), All Muscle Cars (Universal), All SUVs (Universal), All Trucks (Universal), All Va... See more

Description:
Support, safety, comfort, durability, and style. Rarely do you find all these qualities in a single race seat, which elevates the new BRIDE Zeta III to an unprecedented level above the competition. Utilizing state of the art technology, these racing seats are comfortable for extended use, yet have the bolstering necessary to withstand the rigorous conditions of circuit racing. Equally noteworthy is a radical new sparkling silver metallic fiberglass finish, the first of its kind, which rounds out the total package. In other words, strap into a BRIDE Zeta III, and accept no compromise!

BRIDE is dedicated to the pursuit of combining comfort and safety into a sport seat designed for circuit racing. Using cutting edge technology, every sport seat is subjected to various crash tests to conform to the Japanese safety standard of circuit racing: F.I.A. Official Homologation. As a result, BRIDE seats have become a number one pick for motorsport enthusiasts, and are used in many professional race cars around the world.:
• Type S: The shoulder area is 1 1/5 inches (40mm) smaller, and is 2 inches (50mm) shorter in height
• Type L: The shoulder area is 1 1/5 inches (40mm) wider, and is 2 inches (50mm) taller in height
Bride is probably the most famous JDM seat manufacturer in the world. All Bride parts are made in Japan, and as with so many other JDM parts Bride parts have incredible quality. The difference in quality between a cheaply-made racing seat and a Bride racing seat goes beyond sitting comfort. It goes as far as improving your safety, since Bride seats engineered with safety in mind.
Q: Do racing seats come in pairs?
A: Unless specifically notated otherwise in our product listings webpage, racing seats are sold individually.

Q: I drive my car a lot. How do I know which of these seats is the most comfortable? Will all these seats be more comfortable than my factory seats?
A: In general, most racing seats are more firm that factory seats, since most racing seats are made with performance and lateral support in mind. So that means that while they won't necessarily be stiff, they're certainly not designed specifically to be cushy for long road trips either. That said, there are things you can do to maximize comfort with aftermarket seats. A lot of seat comfort has to do with proper adjustment, and this applies to factory seats as well. Always try different positions, along with various steering wheel adjustments, to find out which combination works best for your body type and height. Your knees should be slightly bent when touching the floor, without having to stretch to reach the pedals. The seat back should put your shoulders behind your hips, ideally so that your upper torso is at a 100-110 degree angle to your thighs. If your seat has other fine adjustments such as height or lumbar, play around with them until your seating position feels just right.

Q: Do custom/racing seats include the brackets to fit my vehicle?
A: No, seat brackets are sold separately. We sell a huge assortment of them!

Q: Do racing seats fit in any vehicle?
A: Racing seats are universal for all vehicles; however, each seat will need to latch to a seat bracket, which is car specific. Make sure there is a bracket available for your vehicle on our website (or by calling us at 1-800-419-1152), or otherwise you can buy a universal bracket and custom fit it to your car. The way the universal brackets work is they come with a pair of brackets that have a multiple 'holes' to be able to interface with the bottom of the racing seat. By using the custom bracket and applying it to the seat first before installing it, you can also be sure that the brackets will match the width of the seats.

Q: Do you need any extra accessories to install racing seats, such as brackets or sliders?
A: You can't install a racing seat without a seat bracket to mount it to your floorboard. Some seats are rail mounted and some are mounted using side brackets. Seat sliders can be purchased as well to adjust the seat separately. If there are no rails or brackets for your vehicle, Sparco makes a universal seat rail that can be modified to work with any racing seat.

Q: How do you install racing seats?
A: There are two types of seats. The first is a side mount, which uses brackets that are installed to the floor and to the side of the seat. The second type is one that sits on top of rails and bolt in from the bottom. After purchasing needed parts, simply unbolt your factory rails and install the new ones.

Q: Can I use my factory seat belts with aftermarket seats?
A: In most cases, it is entirely possible to maintain your factory seat belts with aftermarket seats. On some vehicles, however, the seat belt buckle is integrated into the seat itself, so it may be necessary in those cases to use aftermarket harnesses that have been properly installed according to the harness manufacturer's instructions.

Q: Why buy racing seats?
A: Racing seats weigh substantially less than factory seats, thereby improving performance of your vehicle. In addition, they increase support and can generally withstand more impact than factory seats. Beyond that, racing seats look a whole lot better than factory seats!


Not able to find what you are looking for?

2 X TANAKA UNIVERSAL RED 4 POINT BUCKLE RACING SEAT BELT HARNESS
Sparco Corsa GRP Racing Seats
Racing Seat Belt Harness Southern & Bobs Ratrod Drag car
NEW 2 BLACK CLOTH & YELLOW STITCH RACING SEATS RECLINABLE W/ SLIDER
New Monaco Seat Covers Set Front & Rear Full Interior Racing Stripe Charcoal