EXTERIOR
INTERIOR
LIGHTS
PERFORMANCE
SUSPENSION
BRAKES
DRIVETRAIN
AUDIO
WHEELS
GARAGE
Brand-X 12" High Power Dual Voice Coil Subwoofer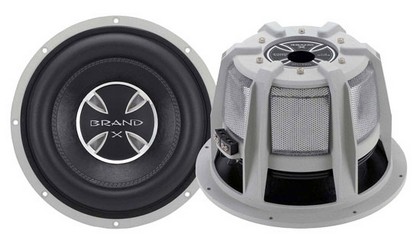 Brand-X 12" High Power Dual Voice Coil Subwoofer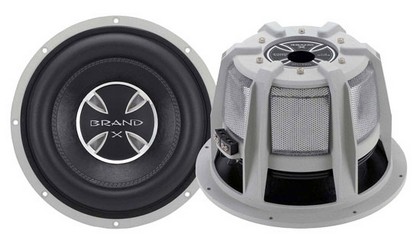 Fits On:

All Jeeps (Universal), All Vehicles (Universal)
Description:
12" Super Stiff Treated Pulp Ultra-Lite Cone
Oversize High Density Foam Surround
Dual 3" High Temperature Baccar Voice Coil
Double Stacked 320 Oz Magnet Structure
Vented Pole Piece Back Plate
Die Cast Aluminum Frame
Power Handling:2000 Watts Rms / 4000 Watts Peak
Frequency Response: 30hz-1200hz
Impedance (Per Coil): 1.2 Ohm
Effciency: 91db
Includes Installation Template
Straight out of Brooklyn, NY Brand X is an emerging car audio company with bright future ahead of them. They offer a full array of innovative electronic components including car stereo amplifiers, head units, speakers, enclosures, mobile DVD, navigation and a whole lot more. With very affordable prices they have made themselves accessible to all customers but still provide a good quality product that will last down the road. The folks at Brand X know the importance of high-quality sound and they have focused their attention on producing the best audio experience for their customers. They also offer great personal customer and technical service making them an easy company to work with.
Q: How many watts should I make sure my subwoofer can handle? How do I know which wattage is best for me?
A: If you are looking to buy a subwoofer it is important to know what kind of amplifier you are planning on running as well. The power output of the amp will largely dictate what subwoofer you can run. If you have an amplifier that puts out 200 watts, you will need a subwoofer that can handle at least 200 watts. If you are planning on bridging your amplifier remember to double the wattage per channel when figuring out which subwoofer to go with. In general you will want to power your subwoofer with an amp that can provide 75% -100% of the speaker's peak power capabilities. So if you have a 10" subwoofer that can handle 200 watts peak power then you will want an amp that can put out at least 150 watts or a 2 channel amp at 75 watts per channel bridged together. A 200+ watt amplifier matched to an appropriate 10" or 12" subwoofer is usually a good starting point for some hard hitting bass.

Q: What is a speaker box? Why buy one? I want to make sure my bass sounds really clean from my woofers. Will my speaker box choice impact how clean my bass sounds? What does it come with?
A: Speaker boxes are carefully designed and constructed boxes that are used to house car audio speakers to enhance sound quality and allow you to conveniently mount the speakers virtually anywhere in your vehicle. Most boxes feature a nice carpeted or textured finish that will add to your interior appeal and give your sound system a professional appearance. If you are in need of some extra volume for your system, or have simply run out of panel space in which to mount speakers, aftermarket speaker boxes are just the ticket. With a full range of designs including custom shapes to fit in the nooks of your specific vehicle they are a great upgrade for any sound system.

Speaker boxes can be designed for the full spectrum of speaker styles including mid-range units such as 6x9s. However, by far the most common application of speaker boxes is for use with subwoofers in order to achieve more punch from the low end of the sound spectrum. When it comes to speaker box designs there are four basic categories: Sealed boxes, ported boxes, bandpass boxes and tubes. Sealed boxes are sturdily designed boxes that are tightly sealed at all joints to prevent sound waves from escaping. These boxes provide excellent sound response and are particularly good for crisp and clear audio. If you are looking for clean bass, a sealed subwoofer box is the way to go. Sealed boxes are also the most compact making them versatile for mounting; however they require more power to achieve similar volume to ported units. Ported boxes feature strategically placed air vents (ports) that help the low end bass really kick. These ported designs allows your woofers to produce a more intense bass hit without using as much power as sealed boxes making them more acoustically efficient. Ported boxes are probably the most commonly used box design and can actually hit lower frequencies than sealed boxes; however they need to be physically larger in order to do so. If size is not a restriction and you like your bass low and loud, ported boxes are a great option. Bandpass boxes feature a clever design where the woofer is hidden inside a multiple chamber box with one chamber ported and the other sealed. They have a limited frequency range, however they pack an incredible punch with the sound that falls in that range. But it is crucial that the bandpass box be used with the right woofer type in order to achieve the desired results. Tubes are single speaker enclosures that are shaped as large cylinders, usually with porting on one end. They are often a more compact design which makes them perfect for smaller vehicles; however they do not pack as much punch as larger boxes. It is also important to note that in general a larger deeper box will give better bass response especially down low, while a shallower box will generally not have as much range.

Speaker boxes are primarily sold as naked boxes without speakers allowing the owner to choose the perfect speaker to match the rest of their setup and install it in a box. Most speaker boxes come with a carpeted exterior and are pre-cut for a specific speaker diameter and include wiring connectors/terminals for easy hook up, as well as pre-installed ports if it is a ported type box. Some boxes do come loaded with speakers, but never assume the box will come with speakers. Be sure to read the full description before purchasing.

Q: What are ohms? How do they affect my decision when it comes to buying a subwoofer?
A: The term Ohm is a unit of measurement used for electrical resistance also called impedance. The more Ohms a speaker has the more it is trying to resist the flow of current. For example a 4 Ohm speaker has half the resistance to current flow as an 8 Ohm speaker. This means that current flows more efficiently through a 4 Ohm speaker and that the 8 Ohm speaker will require more power to achieve the same results as the 4 Ohm speaker. Most car audio speakers are 4 Ohms however there are many exceptions such as 2 Ohm and 8 Ohm subwoofers. One important thing to remember about Ohms is that amplifiers have an impedance limit. Most amplifiers can run at 4 Ohms and many can go as low as 2 Ohms, but if you try to run low impedance speakers off an amp that cannot support it there will be major problems. It is always best to run your amplifier at the lowest Ohm load that it and the rest of your system can safely handle because this will provide you with the most power. Many people bridge amplifiers when running subwoofers and it is crucial to remember that many amps can support 2 Ohm operation in un-bridged form, but are not safe for 2 Ohm operation in a bridged configuration. The bottom line is to make sure your amplifiers and subwoofers have compatible in terms of what impedance level they are designed to operate at.

Q: What do subwoofers do? Why buy a subwoofer?
A: A subwoofer is a large speaker that is purpose built for use with low-frequency sound otherwise known as bass. The usual frequency range covered by a subwoofer is about 20 -200 Hz and popular sizes include 8", 10" 12" and 15", generally speaking the larger the subwoofer the lower the frequency response and the louder it can hit. If you've heard a car driving down the street with a deep banging noise come from the back, possibly rattling the trunk lid, those are subwoofers at work. Subwoofers are a crucial part of your car audio system. Without them your stereo will sound flat and be seriously lacking in bass response. If you want a complete full sound that you can crank up and enjoy subwoofers are a must.

Q: What do tweeters do? Why buy tweeters?
A: Tweeters are small speakers designed to work in the high-frequency end of the sound spectrum, usually around 2000 Hz to 20,000 Hz. When you turn up the treble on your stereo you are usually dialing in a little extra sound from the tweeters. Unlike subwoofers these units are physically small and require relatively little power to operate. Tweeters are available as standalone component style speakers but also come as part of two way speakers that consist of a mid-range or woofer with a tweeter mounted above. In order to maximize sound quality to get the full range from your car audio system, tweeters are a necessity.

Q: What is a coaxial speaker? Why would I buy one?
A: A coaxial speaker is an affordable and popular speaker that consists of a mid-range or woofer with a tweeter mounted over the center of the cone. This allows for the single speaker to accommodate a full range of frequencies with the woofer handling the low to mid-range and the tweeter handling the highs. The main advantages of coaxial speakers are low-cost and ease of installation. Many times these speakers are designed in sizes meant to directly replace OEM units. The major downside is they do not offer the best sound quality compared to component style speakers. If you don't want to go crazy with your stereo system but just want a simple budget upgrade, then coaxial speakers are just the ticket.

Q: What's the difference between a 2-way and 3-way speaker? Which one should I buy? Is a dual-cone speaker the same thing as a 2-way speaker?
A: The difference between two-way speakers and three-way speakers lies in the number of drivers they contain. While both speakers are used to cover the full audio spectrum, a two-way speaker only uses two drivers to cover the frequency spectrum, while a three-way speaker uses three drivers. In general a two-way speaker will consist of a tweeter and a woofer (or mid-range), while a three-way speaker usually contains a woofer, mid-range and tweeter, although some have a mid-range and two tweeters. A dual cone speaker is not the same thing as a two-way speaker. The dual cone design features a small "whizzer" cone attached to the center of the main cone to give extended frequency range, however the whizzer cone is not its own separate driver. Three way speakers are an affordable way to cover the full sound spectrum but they do not offer the best sound clarity. A two-way speaker may lack the range of a three-way but they often have better sound quality due to the arrangement of the drivers in the speaker design.