Boss MP3-Compatible In-Dash Cd Receiver With USB And SD Memory Card Ports And Front Panel Aux Input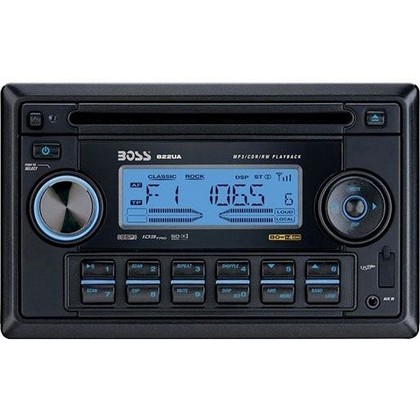 Boss MP3-Compatible In-Dash Cd Receiver With USB And SD Memory Card Ports And Front Panel Aux Input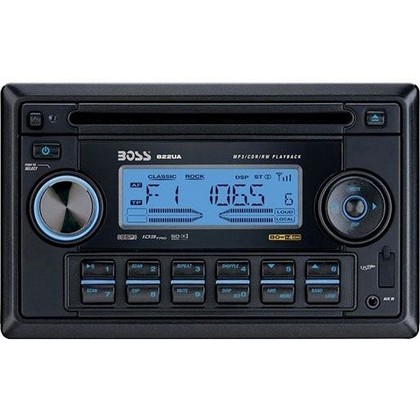 Fits On:

All Jeeps (Universal), All Vehicles (Universal)
Description:
• Double DIN mounting
• Full detachable front panel
• 5 Volt preamp output
• Oversized, active black mask display
• Illuminated control buttons
• PLL synthesized tuner with 24 station presets
• Switchable USA/Europe radio frequencies
• Front panel AUX input
• Compatible with audio output of iPod and other MP3 players
• Quartz digital clock
• CD mute function
• Track repeat
• Intro scan
• 1 Bit D/A converter
• 8X oversampling
• ESP (anti-skip mechanism)
• Separate bass and treble
• Balance and fader controls
• RCA outputs
• Loudness
• Local/distance switch
• Wireless remote control
• Output power: 80w x 4 channels
Boss Audio Systems is one of the leading manufacturers of mobile audio components in the world. Based in Oxnard, California they have factories strategically located all around the world so that they can easily meet consumer demands in a timely manner. With over 25 years of industry experience it is no surprise that Boss has a record of outstanding customer service and provides some of the best warranties in the business. It has been the mission of the folks at Boss to offer high-performing products at prices that the average enthusiast can afford. With a great distribution network they have achieved this goal, so you know you will get great quality at a competitive price when you choose Boss.
Q: What does DIN mean and stand for? What's the difference between Single DIN and Double DIN when it comes to stereos, receivers, and in-dash dvd players?
A: DIN is the standardized size for car stereo head-units. Universally adopted in the 1980s it comes from the German Institute for Standardization or Deutsches Institut für Normung, hence DIN. The size refers only to the face of the unit not to how deep it is. A Single DIN stereo is roughly 7 inches x 2 inches (180mm x 50mm) and is the common size for a deck containing a single slide in CD player. Double DIN is the same width (7 inches) of single DIN but is twice the height making it 4 inches tall. Double DIN is most commonly seen in stereo units that have more elaborate displays such as small in-dash dvd players.

Q: I want to buy a full stereo system. I want it to sound great and I want the bass to hit hard and be clean. What all do I need to buy to make that happen?
A: When buying a stereo it is important to outline what you want in terms of performance and sound. In general the more you are willing to spend the better your system will sound. The basic components you'll need for a good system are a high-quality stereo head-unit, four full range speakers (two front and two rear), two high-frequency tweeters, one or more subwoofers to provide the bass, a four-channel amplifier to power all of the full range speakers and a mono or two-channel amplifier to power the subwoofer. If you want to be able to fine tune your stereos sound then an equalizer is also a good idea and for better sound clarity and quality a crossover unit can be used to separate and direct the appropriate frequencies to the right speakers. The size and power-range of the speakers will depend a lot on the size of your car and how loud you want the stereo to be, but you will want to be sure to match your amplifiers power output to the power capabilities of the speakers in order to get the cleanest sound. In addition to the major components you will also want to get some good speaker wire and stereo chords to connect it all together.


Not able to find what you are looking for?

FOR CHEVY SILVERADO CRUZE TAHOE SUBURBAN CHROME DECORATIVE FLEXIBLE "U" SHAPE
1967, 1968, 1969, 1970, 1971, 1972 GMC Truck Radio, USA-630, Classic Radio
JENSEN Handlebar Remote Control for JHD40BT, HD1BT and JHD1635BT Stereos Chrome
NEW CHROME CAR DECORATION TRIM STRIP FOR AUDI ACURA BMW BUICK BENZ CHEVY
8" Toyota Camry 2007-2011 GPS Navigation Car Dash DVD Stereos System+Camera