EXTERIOR
INTERIOR
LIGHTS
PERFORMANCE
SUSPENSION
BRAKES
DRIVETRAIN
AUDIO
WHEELS
GARAGE
Blox Racing 7-Sided Forged Titanium Lug Nuts - 12x1.5

$392.00
For set of 20

Color : Titanium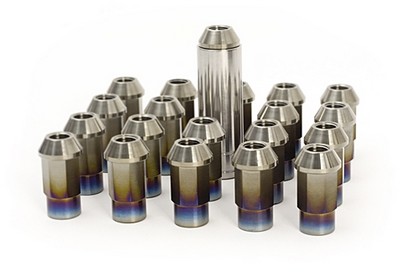 Video Description:


In this video, we explain the proper way to attach your wheels to your car. Highlights include:

*At 0:16, we explain factory torque specifications.

*At 0:30, we explain why overtightening your lug nuts is a bad thing.

*At 0:56, we go over the proper way to torque your lug nuts with a torque wrench.

*At 1:27, we show you another option, torque sticks.

Video Description:


Want help choosing which lug nuts to buy? Check out this episode of Andy's Auto Sport TV!
Fits On:

00-Up Chrysler Pt Cruiser, 00-Up Ford Focus, 00-Up Hyundai Accent Gl/Gs/L, 00-Up Hyundai Tiburon, 00-Up Kia Rio, 00-Up Lexus I... See more

Description:
BLOX Racing is pleased to introduce its new forged Ti lug nut sets. These new 7-sided lug nuts are forged from high quality titanium then machined to precise thread pitch specifications.

The new SepTi lug nuts are available in single-piece, set of 16 and set of 20 in 12x1.5 and 12x1.25 thread pitch patterns. Each is then heated to provide its burnt appearance.

The new 7-sided lug nuts offer a unique shape, but more importantly, makes it more difficult for would-be thieves from stealing lugs – or worse – wheels. Special SepTi socket is included with lug nut sets.
Q: What are lug nuts? Why buy them?
A: Lug nuts are the crucial pieces that connect your wheels to your vehicle. While factory lug nuts may do an adequate job on a stock machine, aftermarket wheels and performance upgrades often require upgraded lug nuts to match. High performance lug nuts are designed for the rigors of high speed driving to provide maximum strength to keep your wheels secure. In addition these lug nuts are light weight which reduces rotational mass and unsprung weight to maximize your vehicle's performance and handling characteristics. Available in a host of different finishes and designs you can find the perfect lug nuts to give ride a distinctive look that is the perfect match for your wheels. In addition lug nuts are an affordable upgrade for even budget minded enthusiasts.