Blair "11,000 Series" Rotobroach® Cutters - 1/4" (3 Pack)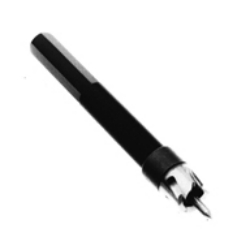 Fits On:

Description:
Features and Benefits:

•Made of M2 high speed steel
•Cutters fit 3/8" and 1/2" hand held drill chucks
•Includes 3 in a pack
•Made in the USAThis series cut holes 3 times faster and last 10 times longer than twist drills or hole saws, for precision hole making in sheet metal and frame materials up to 1/2" thick. Blair Rotabroach annular Cutters make clean, burr-free, round holes with no deforming of stock or damage to the surrounding material. There's no dead zone, so less thrust is required and no deforming of stock or jagged edges occurs. Multiple cutting teeth, precision ground which allows for a long tool life.
Not able to find what you are looking for?

Dent Fix DF15DX Spot Weld Drill Kit Spot Annihilator Kit w Case & Drill bits
Time-Sert M6x1.0 Thread Repair Tools Driver Tap CBore Drill Bits & 12mm Inserts
Storage Find.Lot/18 items,Titanium Drill Bits,Polyfoam,Transmission Kit,Pliers.
Snap On Machine Screw Length DBH7B Hex Shank Drill Bits in Red Pouch
dewalt pilot point 5/16" drill bits