EXTERIOR
INTERIOR
LIGHTS
PERFORMANCE
SUSPENSION
BRAKES
DRIVETRAIN
AUDIO
WHEELS
GARAGE
B&B Performance Catback Exhaust System 2-1/2", Quad 4.5" Oval Tips.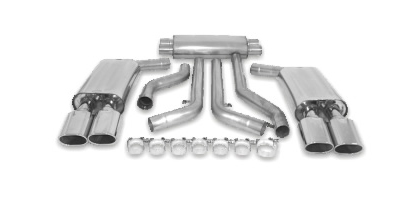 B&B Performance Catback Exhaust System 2-1/2", Quad 4.5" Oval Tips.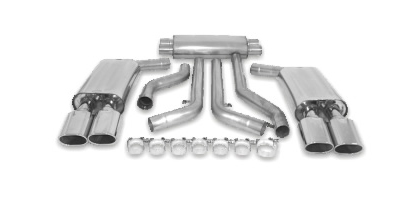 Video Description:


Everything you need to know about exhaust systems is explained on this episode of Andy's Auto Sport TV! We explain what exactly a cat-back exhaust system is, we explain why buying an exhaust system is Step 1 for improving performance, and we give information about how to make a buying decision from all the brands we carry here at Andy's.
Fits On:

Description:
We set the pace for stainless steel exhaust systems, especially when it comes to Corvette exhaust systems. All of our Corvette exhaust systems are built by hand using T304 stainless steel. Through extensive dyno testing we concluded that the LT motors love to breathe, so we designed the entire system using 3" mandrel bent tubing. With a uniquely designed resonator and muffler pair, your LT1, LT4, and ZR1 motor will increase in performance and sound. This direct bolt-on replacement system adds increased performance at 25 horsepower, improved sound quality, and precision built quad tips for a stylish finish.
We admit it - there was a time when we were naive and thought that Billy Boat Performance Exhaust products were strictly for watercraft. We quickly came to realize, however, that the company was named after its founder, former Indy Racing League driver Billy Boat. Yes, silly us, but we've actually become big fans of the company's high-end exhaust systems for sports cars and trucks, especially the Porsche applications, which make the German flat-sixes sound unreal! For over 20 years, Billy Boat Performance, also known as B&B, has hand polished each and every system to a mirror finish. With substantial, proven power increases for every exhaust product it manufactures, Billy Boat's stainless exhaust systems look, sound, and perform like no other.
Q: How do you install an exhaust system?
A: Exhaust systems are installed using the supplied hardware, which includes gaskets and high grade bolts. This is truly a bolt-on procedure and most exhaust systems are an exact fit with no modifications needed. For this reason, getting a performance exhaust system is normally considered one of the easiest ways to gain noticeable horsepower for your car.

Q: What exactly does "cat-back" mean when people say "cat-back exhaust"?
A: Many performance exhaust systems are also referred to as cat-back exhausts. Cat-back means that the exhaust piping starts from your catalytic converter and runs back all the way to the exhaust tip(s).

Q: Does a cat-back exhaust come with a catalytic converter?
A: No, "cat-back" actually means from the rear of the catalytic converter back, so it will include everything after the converter, but not the converter itself.

Q: What does an ehaust system do? Why buy an exhaust system?
A: A performance exhaust system is used to increase horsepower for your car by allowing exhaust gases to pass through your exhaust system with less backpressure and less resistance. Larger-diameter piping is normally used, depending on the application, in order to gain more horsepower and torque levels throughout the power band. A performance exhaust system can be the most cost-effective modification you can do to get more horsepower out of your car, not to mention that it will give your car a deeper more aggressive sound. And depending on the brand, performance exhaust systems normally include gorgeous new mufflers that add a great appearance to your car.