BF Goodrich Advantage T/A 235/60R-16 100H BSW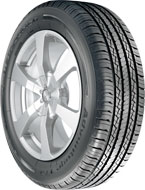 $148.00
For each

Free Shipping!
*Continental U.S. only.
Section Width : 235mm
Diameter : 16"
Speed Rating : H
Aspect Ratio : 60
BF Goodrich Advantage T/A 235/60R-16 100H BSW

$148.00
For each

Free Shipping!
*Continental U.S. only.
Section Width : 235mm
Diameter : 16"
Speed Rating : H
Aspect Ratio : 60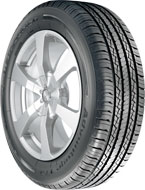 Fits On:

All Jeeps (Universal), Universal
Description:
BF Goodrich Advantage T/A

Treadwear: 560
Traction: A
Temperature: A
Speed Rating: H


About the Advantage T/A
60,000 fun miles ahead
Non-directional tread design and tread life warranty mean real driving excitement over the long haul.

Handles rain, snow and curves
New g-Grip interlocking sipe design provides excellent all-weather bite and responsive handling that enthusiasts demand.

Authentic go-fast looks
Signature aesthetics give it away - BFGoodrich racing heritage puts real GO into everyday driving.

Designed for ease of maintenance and increased tread life
Non-Directional tread.

Interlocking sipe design increases grip in all kinds of weather
New g-Grip Sipe Technology.

Reinforcement where it counts for comfort and great handling
g-Wedge™ sidewall stabilizer.

Maintains the tread footprint for consistent high-speed control
ETEC System™ (Equal TEnsion Containment System).

Deep, wide channels for maximum water evacuation
Circumferential grooves.

Increased lateral control for crisper handling
Rigid shoulder blocks.

Developed for excellent wet and dry traction
All-season tread compound.



BF Goodrich is the oldest and most prestigious American tire manufacturer in existence. With over 115 years in the industry they have a tremendous legacy of performance, innovation, quality and reliability in the automotive industry. They have been involved in some of the most impressive accomplishments of the 20th century including being on the first car ever to cross the United States and being part of Charles Lindberg's record setting Spirit of St. Louis aircraft. In addition to their illustrious past BF Goodrich continues to make headlines and prove their merit with numerous recent motorsport victories including 20 consecutive Baja 1000 wins, 5 Paris Dakar wins, and 17 X Games Super Rally medals. They also hold the distinction of making the first street tire to achieve 1g of lateral acceleration. Based in Greenville, South Carolina they have an impressive distribution facility and are capable of quickly and effectively serving their customer base all over the globe. They are truly unmatched in the world of automotive tires.
Q: What different tire types are there, and how do I know which one is best for me? How do I read tire sizes? How do I know which tire size is best for my vehicle?
A: Tires are one of the most important components on any vehicle. They can transform a ride from soft to harsh, improve handling, make your truck off-road competent, or even affect gas mileage. There are numerous different tire types developed for the different styles of driving that people have adopted. The major categories include off road tires or mud &snow tires, all-season tires and high performance tires. There are also tire options that blend the line between these categories. All-season tires are the most prevalent and are designed to work in the biggest array of conditions from dry roads to wet roads to the occasional ice and snow. These are the tires that most commonly come on passenger vehicles and light trucks/SUVs; they usually have the highest tread wear rating so they last the longest and are the most affordable of the groups. Off road tires are designed for more extreme conditions such as loose dirt, mud or deep snow. These are often used by 4x4 enthusiasts and they sometimes require a lift in order to clear the larger more aggressive tread designs. These tires tend to be noisy on the street, and wear out quicker than standard tires, but they really shine when the terrain gets rough. High performance tires are designed to maximize traction and handling for sports cars or performance oriented machines. These tires are rated for higher speed and increased grip but also wear out quicker due to softer compounds, and tend to be worse in the wet than all-season tires. You should choose your tire type based on how you use your vehicle the majority of the time. If you like performance driving you will want a performance tire, but if you commute 90% of the time, a good all-season will be probably be the best choice.

Tires come in a host of different sizes, and the sizing is usually stamped right on the sidewall of the tire. Some off road tires use a format that lists the tire diameter, the tire width and the wheel diameter. For example a 31x10.50x15 would mean the tire is 31" tall, 10.50" wide and fits a 15" tall wheel. More commonly though, tires rely on metric measurements using width, aspect ratio and wheel diameter. A 205/65/14 means that the tire is 205 mm wide, that the distance of the sidewall from the rim lip to the tread face (the aspect ratio) is 65% of the tread width (65% of 205 mm), and it should be mounted on a 14" rim.

In general when choosing a tire it is best to replace your tires with the size that was originally fitted to the vehicle. However, it is often popular to increase tire size in order to gain some added performance be it on or off road. In this case it is crucial to do your homework because a tire that is too tall or too wide will rub and damage the body work as well as hurting the tire itself. If you are planning to run larger wheels it is common to run lower profile tires (smaller sidewall) in order to prevent rubbing and to keep the final drive close to stock and the speedometer calibration the same. Many vehicle manufacturers will list tire sizes that fit your vehicle in the owner's manual or on their websites. When in doubt it is best to contact the manufacturer directly to find out if a specific tire size will work with your vehicle.


Not able to find what you are looking for?

2 NEW 195/60-14 FALKEN AZENIS RT-615K 60R R14 TIRES
2 NEW 315/35-17 NITTO NT 555R DRAG 35R R17 TIRES
2 NEW 205/65-15 MILESTAR MS932 SPORT 65R R15 TIRES
2 New 235/75-15 Goodyear Wrangler Radial All Terrain 300AB Tires 2357515
TWO New Trailer Tires ST 175/80D13 TIRE & WHEEL 5 LUG 6 P.R