AutoLoc 90º Heavy Duty Remote Automated Upright / Lambo / Vertical Door System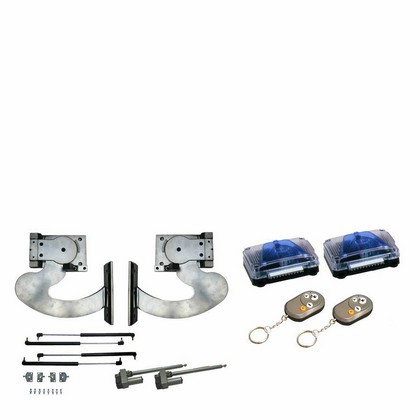 AutoLoc 90º Heavy Duty Remote Automated Upright / Lambo / Vertical Door System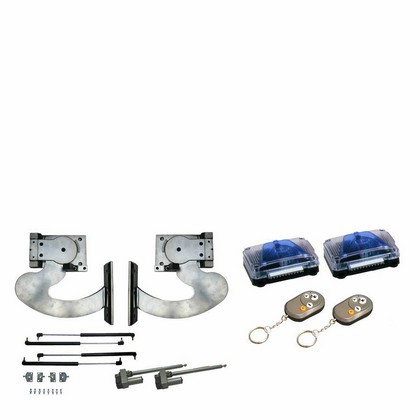 Fits On:

Description:
ALL DOORS UP! AutoLöc's NEW Upright Door System will make your car/truck stand out in a crowd. AutoLöcs new design allows doors to swing up to 90 degrees. Do not settle for kits with inadequate door movement! AutoLöc's advanced universal design ensures proper fit and a long life of smooth operation. AutoLöc's Deluxe Fully Automatic Motorized Upright Door System allows you to push a button and your door will open out, then up automatically! To ensure maximum quality each kit is CAD/CAM designed. Available in universal and direct bolt in kits. Call for more information on specific vehicle systems.

Kit Includes:
2 Heavy Duty 90 Degree Door Hinges
2 Heavy Duty 8" Linear Actuators
2 Sets of Linear Actuator Mounting Brackets
2 Shave Door Poppers
2 Long Range Remotes
2 Motor Control Units
4 Heavy Duty 220lb Gas Struts
2 Removable Mounting Arms
4 Gas Strut Mounting Brackets
8 Gas Strut Ball Studs
2 AutoLoc Stickers
Detailed Instructions
Lifetime Warranty
Autoloc is an established manufacturer that has a knack for developing creative new products. They were among the first to offer vertical door conversion kits and shaved door kits, to name a few. Their shaved door kits are powered by strong solenoid systems that are extremely durable. A shaved door kit is a great way give your vehicle an ultra-clean look!
Q: What is included with lambo door kits?
A: Lambo doors come with all necessary hardware and hinges allowing you to bolt or weld on to your vehicle. Kits come with shocks that power your doors upward. Different brands have different mechanisms for opening the door, but all utilize a shock made to uphold the weight of your door. So right when you grab the handle of your door and open (unlatch) it, the door automatically goes upward since there's upward pressure being applied by the shocks that are installed with the kit.

Q: How do you install lambo doors?
A: There are two types of lambo door kits: bolt-on and weld-on. The bolt-on kits are vehicle-specific and the manufacturer has already done all the engineering work to make sure the kit directly matches your factory bolt pattern, and that the shocks that come with the hinges are the right strength to open your doors vertically. Weld-on kits, which are universal, have not been made to specifically fit your vehicle. Instead, they are just a universal hinge kit is built with the mechanism that opens your doors vertically, but that has to be welded on since it won't match your factory door hinge bolt pattern. Bolt-on kits cost more than weld-on kits, but they probably require less than half the installation labor of a weld-on kit if not more.

Q: Are all vertical doors kits going to go up 90-degrees on my car?
A: No. To make your door go 90 degrees, you almost certainly have to modify the fender in order to make room for the door to be there. Generally, you'll only accomplish a 90-degree or more angle if you buy a weld-on universal kit, since they're made to be customizable to begin with. Bolt-on kits have kind of a claim to fame of not requiring any modifications and being strictly bolt-on, and therefore often limit the height of the door angle to only go as high as it can without requiring modification of the fender for more clearance. This normally ends up being at about 75-degrees.

Q: What are vertical doors? Why buy vertical doors?
A: Vertical door kits are door hinges that allow your doors to open up in a Lamborghini fashion, vertically. They are perhaps the most head-turning modification you can do to your car. The exquisite characteristic once only seen on world-class super cars is now available for your car. If you are looking to get your car noticed, there is no doubt whatsoever that having vertical doors on your car will do that.

Q: Are vertical doors the same as lambo doors?
A: Lambo doors and vertical doors are two names for the exact same thing.