EXTERIOR
INTERIOR
LIGHTS
PERFORMANCE
SUSPENSION
BRAKES
DRIVETRAIN
AUDIO
WHEELS
GARAGE
AutoLoc Chrome Trunk Hinge Kit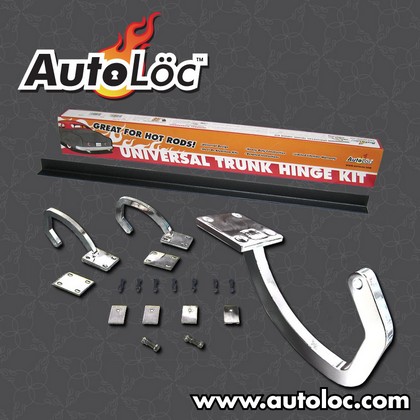 AutoLoc Chrome Trunk Hinge Kit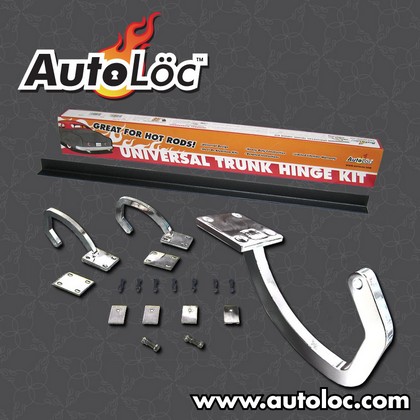 Fits On:

Description:
The AutoLöc Universal Trunk Hinge Kit takes the difficulty away from designing a custom functional trunk! Make your vehicle's trunk function properly and appear professional. The specially designed J-arms get rid of ugly factory hinges and ensures trunk clearance when opening. J-arms on the TRH are fully chromed for a luxurious AND functional trunk!

AutoLöc provides everything needed to get the job done right. Kit includes (2) J-arms in aluminum or steel, J-arm mounting tabs and 40" bracket. AutoLöc's Universal Trunk Hinge Kit also includes mounting hardware, detailed instructions, friendly tech support and a Limited Lifetime Warranty.

Features:
Chrome Plated
Easy Installation
Detailed Instructions
Universal Steel Trunk Hinge Kit
Autoloc is an established manufacturer that has a knack for developing creative new products. They were among the first to offer vertical door conversion kits and shaved door kits, to name a few.
Q: How do you install a carbon fiber trunk?
A: Carbon fiber trunks are usually OEM fit, which means for most you simply un-bolt your factory trunk and replace it with the new carbon fiber trunk using factory hinges. Also, keep in mind that you don't need to paint the carbon fiber trunk; it comes with a clear gelcoat finish that is exactly how you want it to look right when you receive it.

Q: Why buy a carbon fiber trunk?
A: Carbon fiber trunks are a great buy if you want to enhance the appearance of your car and give it a unique, race look. Carbon fiber trunks are a relatively new modification option, and will truly make your car unique. Aside from the cosmetic upgrade they provide, they are a good buy if you're looking for a lightweight alternative from your heavy steel factory trunk.