Auto Logic PC Based 5-Gas Emissions Analyzer With Integrated OBD-II Scan Tool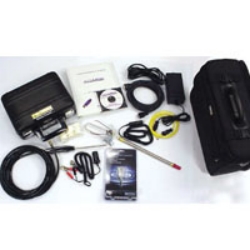 Fits On:

Description:
Features and Benefits:

Measures HC, CO, CO2, O2, NOX, air/fuel ration and lambda
•OBDII codes for all makes and models, 1996 and newer (CAN, KWP, ISO, VPW, PWM)
•Displays real time date in digital and graphing formats
•Integrated data recording and customer database
•Wireless Hands free communications availableDiagnose emissions failures, find EVAP and fuel system leaks, troubleshoot and clear trouble codes with one powerful product.
Powerful 5-Gas Emissions Analyzer - AutoGas; is a rugged portable 5-Gas analyzer with software for use with any existing shop PC between repair bays, or with a laptop for on the road testing. AutoGas; meets or exceeds worldwide emissions testing standards and offers many unique features not found in other gas analyzer systems. Features include:
Measures HC, CO, CO2, O2, NOx, air-fuel ratio and lambda
•Meets or exceeds: BAR97, BAR90, ASM, OIML and Class 1
•ASM simulation mode and two speed idle test functions
•Configurable to meet different emissions tests requirements.
•Full Color meters and line graphing
•Integrated data recording in industry standard Microsoft Access for viewing and printing
•Emissions test results are linked to customer and vehicle database
•Extreme heavy duty drawn aluminum case and sampling system
•Print professional reports
•Special probe included to help find fuel system and EVAP leaks
•Includes all items necessary to operate on current model PC's or laptop's (with two available USB ports) Powerful OBD-II Scan Tool - AUTO OBD; is a powerful generic OBD-II scan tool, robust enough for large scale repair shops while remaining easy to use for the do-it-yourselfer. Quickly diagnose OBD-II and emissions problems. Get more accurate and consistent testing results. Troubleshooting, clearing check engine lights, understanding OBDII and emission testing concepts are all made easier with unique features.
Works on all makes and models of 1996 and newer OBD-II compliant vehicles (CAN, KWP, ISO, VPW, PWM)
•Clears Check Engine Lights
•Displays and translates Fault Codes (DTC's)
•Displays Real time data in digital formats
•Wireless Hands free communications availableDrop Ship Only
Not able to find what you are looking for?

ELM327 Super Mini Bluetooth V1.5 OBD2 Car Diagnostic Code Readers and Scanners