EXTERIOR
INTERIOR
LIGHTS
PERFORMANCE
SUSPENSION
BRAKES
DRIVETRAIN
AUDIO
WHEELS
GARAGE
Audiobahn 4 Gauge Amplifier Installation Kit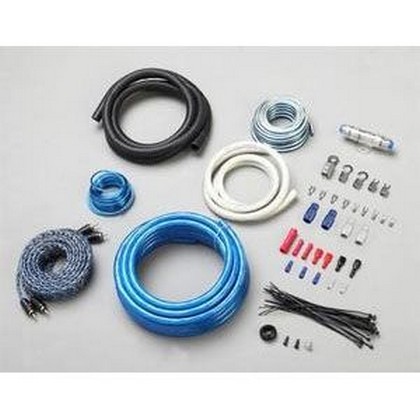 Fits On:

All Jeeps (Universal), All Vehicles (Universal)
Description:
• 20 Ft. Transparent blue 4 AWG power wire
• 20 Ft. Transparent 16 AWG speaker wire
• 20 Ft. Transparent twisted signal cable
• 20 Ft. Blue 18 AWG remote turn-on wire
• 4 Ft. Transparent silver 4 AWG ground wire
• 6 Ft. Black split loom
• 100 Amp AGU fuse
• AGU Fuse holder
• Terminals, Screws, Connectors and Cable Ties
Located in Buena Park, California, Audiobahn started out over a decade ago selling high-power audio equipment to the ever growing aftermarket community. Today they are a true one-stop-shopping brand for any and all mobile audio and electronics needs. With a strong focus on value they offer great affordable equipment that does not sacrifice quality in order to keep prices down. They continue to develop new products with innovative designs and creative aesthetics to keep on the cutting edge of the industry. With a passionate and knowledgeable staff they also provide superb service that has earned them a loyal following amongst audio enthusiasts.
Q: Why should I buy an amp? What is the benefit?
A:
If you want to upgrade your stock stereo system for better sound quality and a little more kick, an amplifier will be a crucial component in your new setup. Amplifiers do just what they advertise; they boost the output of low power sound signals coming out of the stereo allowing you to use higher-quality, more powerful speakers which will give your stereo better sound and increased volume. If you run high-power speakers and subwoofers without an amplifier the results will be a terrible sounding stereo system and a lot of wasted potential in your nice speakers. But add the right amplifier to the mix and suddenly your stereo will be powerful and crisp.
Q: How Many Channels Should My Amp Have?
A:
Choosing the right amplifier is an important part of building your car audio system. Choosing the right number of channels for your amplifier is determined by the number of speakers (tweeters, mid-range and sub-woofers) you are planning to run. In most cases you want to run one speaker per channel. Although it is possible to run multiple speakers off of the same channel it is not usually recommended since it wouldn't optimize sound quality. In general, sub-woofers require more power than smaller speakers so in many cases they will require their own dedicated amplifier.
Here is an example of possible set-ups: If you have a vehicle with four mid-range speakers and a sub-woofer you know will need one channel per speaker for all five speakers. You can either run a five channel amplifier with a dedicated sub-woofer channel in it, or you can use a four channel amplifier for the mid-range speakers and a separate mono or two channel amp for the sub-woofer. The latter option will provide the cleanest sound and allow your subwoofer to get all the power it can use, but either option will work.
See all 7 questions & answers