EXTERIOR
INTERIOR
LIGHTS
PERFORMANCE
SUSPENSION
BRAKES
DRIVETRAIN
AUDIO
WHEELS
GARAGE
APR Performance SS/GT Wide Body Kit - FULL KIT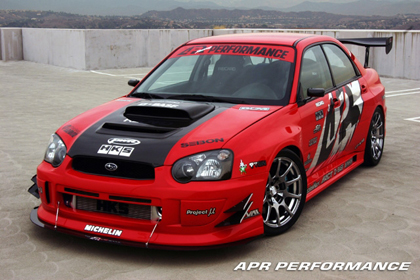 Video Description:


Check out this episode of Andy's Auto Sport TV where we explain what the difference is between fiberglass and poly-urethane. Most body kits are made out of one or the other, and we give you every insight you'll need in order to make an informed buying decision. Check it out!

Video Description:


Simply put, your body kit will NOT come painted. In this video:

*At 0:15, we explain how your body kit will arrive, and what kind of prep work you will have to do before installing your new body kit.

*At 0:37, we tell you what to expect when ordering carbon fiber body parts.
prev
next
Fits On:

Description:
The APR Performance SS/GT (Special Stage/Grand Touring) aerodynamic widebody kit offers traction gains to Impreza WRX and STI owners. The SS/GT aerodynamic kit increases overall body stance by 3.15 inches (80mm). With this increased distance, Impreza owners can now run 18 inch wheels with wheel diameters ranging from 10 to 11 inches and tire diameters up to 295mm to maximize wheel traction.

To enhance increased traction and stability, APR Performance offers additional aerodynamic components such as a front 3 inch carbon fiber wind splitter with front undertray and rear carbon fiber diffuser. Detachable carbon fiber canards are also utilized for front aerodynamic tuning, while the rear adjustable carbon fiber GTC-300 WRX Spec wing, measuring 67 inches (1,700mm) in width and 12 inches (305mm) in height, aids in rear aerodynamic tuning.

This Aerodynamic Kit Includes:
-Widebody Front Bumper with Brake/Oil Cooler Vents
-Carbon Fiber Front Wind Splitter/Undertray
-Carbon Fiber Canards
-Widebody Front Fenders (40mm) with Wheel Turbulence Exhaust Ports
-Widebody Side Skirt
-Widebody Rear Door, Gas Door and Fender Combination (40mm)
-Widebody Drag Reduction Rear Bumper

PLEASE NOTE: Formula GT3 Mirrors and GTC-300 WRX Spec Wing are not included with the SS/GT Widebody Kit. Rear carbon fiber diffuser sold separately.
APR body kits provide a great way to upgrade the look of your vehicle. Body kits are probably the most effective way to give your vehicle a custom look.
Q: What exactly is a body kit? Why buy a body kit?
A:
A body kit is essentially a collection of parts that, when installed on your car, modify its appearance. Most body kits modify the look of the front and rear bumpers and of the rocker panels on a car. Many body kits consist of custom bumpers that replace your factory bumpers, while others include lips or fascias that you add to your factory bumpers. Almost all body kits come with sideskirts that are installed on top of your factory rocker panels. Body kits often create the look of a lowered vehicle and can give your car an aggressive look, a super-clean flowing look, or a race car look, to name a few types of styles. Out of all available modifications, body kits probably make the biggest impact on the appearance of a car. Installing a body kit on your car will completely change your car's look, and will certainly turn peoples' heads as you drive down the street!
Q: Do you put a body kit on over your factory bumpers, or do you replace your factory bumpers with a body kit?
A:
Some body kits come with bumpers that replace your entire factory bumpers while others come with add-on lips that attach to your existing bumpers. It all depends on the brand and style of the body kit.
See all 6 questions & answers