American Racing Perform Maverick Anthracite W/Machined Face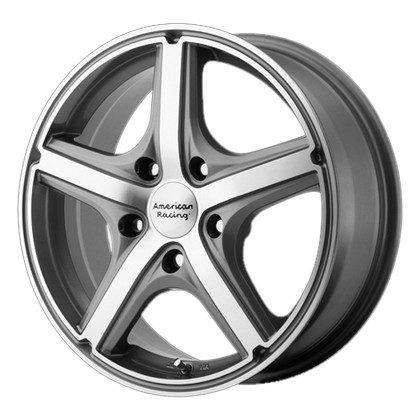 Creator of one of the most historically significant wheels in hot-rodding, the original magnesium Torq Thrust, American Racing revolutionized the racing world by offering significant weight savings and improved brake cooling, as well as a style that spawned the birth of the aftermarket wheel industry. Today, American Racing owns more than a dozen patents in wheel technology, and continues to provide some of the most sought-after wheels by automotive enthusiasts worldwide.
Q: Do the wheels listed on the Andy's website come with tires?
A: No they do not. Tires are sold separately in the 'Tires' category of our website. If you are buying wheels that are the same size as the wheels already on your vehicle, then it won't be necessary to get new tires anyway.

Q: How does Andy's know which wheels will fit my vehicle?
A: We set up some sophisticated database functions to compare fitment information against wheel product information. We take the factory wheel and vehicle specifications of a given vehicle, and use those to determine the range of sizes that would comfortably work for that vehicle. We then load the wheel product data from a given brand of wheels to our database, and within our database we built functions that automatically calculate which wheels meet the fitment criteria of a given vehicle. It's all pretty scientific and mathematical, but by the time you open the Andy's webpage showing the wheels we carry for your vehicle, all that computing has already been done for you and you can rest assured any wheel we list for your vehicle is guaranteed to fit!

Q: What is the best size of rims for me to buy for my vehicle?
A: This sometimes is the most daunting question that buyers face. On one hand you want rims that are big enough to give your vehicle a clearly custom look that differentiates your ride from others on the road. On the other hand, you don't want the wheels to be so big that the only way to stuff them under your fender wells is to use ultra skinny tires and thereby affect your ride quality. In our experience, a safe rule of thumb is that you can comfortably increase the size of your wheels by up to 3 inches from the factory size without it impacting ride quality negatively. So if the factory wheels on your vehicle are 14 inches in diameter, you can comfortably get rims that are up to 17 inches in diameter without negatively affecting ride quality. Of course, you are welcome to go much bigger than that, but in doing so you might be making a sacrifice in ride comfort unless you modify your vehicle in other ways to 'handle' the big rims better.

Q: Are the wheel prices listed on the Andy's website for four wheels, or for each individual wheel?
A: For every wheel we sell, the price is for each individual wheel. So in the likely event that you want four wheels, make sure to adjust the quantity to "4" in the shopping cart after you've added your wheel of choice to the shopping cart.

Q: How can I find out the size of wheels that are currently on my vehicle right now?
A: To find out the size of the wheels on your vehicle, you can actually look at your tires. There is a reading on your tire that looks like this: 225/45R15. The last two numbers (15 in this example) indicate the diameter of the wheels on your vehicle.

Q: Do wheels come with valve stems and lug nuts?
A: Unless otherwise specified, neither lug nuts nor valve stems are included.


Not able to find what you are looking for?

150 PCS BLACK CUSTOM WHEEL RIM PUSH IN STYLE PLASTIC RIVETS RB-106 .25" HOLE
Custom HUB CENTRIC Wheel Spacers Adapters 5x114.3 15MM 64.1mm CB HONDA ACURA
Aluminum Wheel Spacers Adaptors 3-3/4" Custom Rat Rod L@@K!
4X CUSTOM WHEEL SPACERS | 5X4.75 to 5X4.75 | 14X1.5 | 25MM 1" THICK
100 PCS BLACK CUSTOM WHEEL RIM PUSH IN STYLE PLASTIC RIVETS RB-106 .25" HOLE