3M Soft Edge Foam Masking Tape (D.A.R.T.) 19mm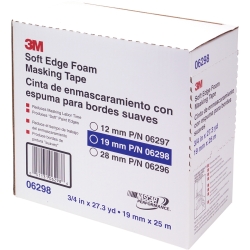 Fits On:

Description:
Features and Benefits:

A foam tape designed to be used in masking door jambs, hood or deck lid openings or other areas of a vehicle which need to be sealed during the painting operation
•Unique adhesive allows material to be repositioned
•Eliminates rework due to unwanted tape lines
•Provides a " soft edge" to prevent tape lines in the jamb areas
•19mm (3/4" ) diameter 27.3 yards (25 meters)Applications include: hood and trunk, doors, door jambs, gas caps, other openings and in the engine compartment.
Not able to find what you are looking for?

Mini Coating Thickness Gauge Paint Thickness Meter Enamel Paint Tester US ship
Paint Mixing Stirring Sticks Wood (100 pcs) FREE SHIPPING
DeVilbiss Paint Gun Gravity 1.3mm Nozzle Nickel Plated Kit 802343
Sharpe Finex FX1000 Mini HVLP Paint Gun (1.0 Tip Size Spray Gun) 289200
Klean-Strip EAR322 Aircraft Paint Remover Aerosol ( 18 oz. )