Electronic Specialties Deluxe Auto DMM And Electrical Troubleshooting Guide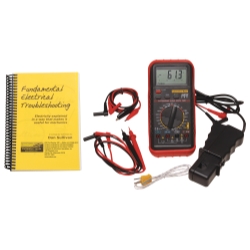 Description



Fits On:
Universal (All Vehicles)
About this Product:
Features and Benefits:

•Professional DMM with 200 pg. Fundamental Electrical Troubleshooting guide included - Tester and book special bundle
•Diagnose electrical, computer and engine problems on any vehicle or equipment
•10 MegOhm impedance, 45 test ranges, 14 test functions, built-in RPM and TEMP
•Dual fuse protected. Carrying case, RPM pick-up, Temp Probe and 2 Sets of Test Leads included
•200 pages of troubleshooting tips covering all aspects of electrical troubleshooting

This is a special bundle of our best selling Automotive DMM, #585K and our new 200 page book " Fundamental Electrical Troubleshooting" by Dan Sullivan - Mechanic Trainer.

» SITE CENTERS



» LINKS



» POWERED BY









CURRENT VEHICLE
Pontiac