Associated 4 X 20-Amp Industrial Gang Charger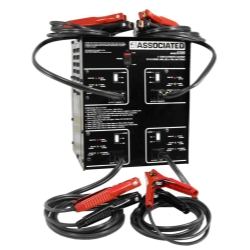 Description



Fits On:
Universal (All Vehicles)
About this Product:
Features and Benefits:

•Four independent, fully-automatic charging channels that control voltage and current up to 20 Amps per circuit
•Four sets of LED indicators showing charging status by battery
•Four sets of detachable 6 foot leads with 300 Amp heavy duty clamps
•Patented diagnostics to indicate weak or defective batteries
•Designed to charge Gel, AGM, Sealed or Standard Flooded batteries including Spiral Cell, Orbital, or Optima batteriesThis unit is unique to the automotive market. It has the capability of charging all types of batteries at the same time and do so automatically. It can charge one to four different types of batteries at the same time and is made in the USA.

» SITE CENTERS



» LINKS



» POWERED BY









CURRENT VEHICLE
Pontiac