Lane's Auto Wax (32oz)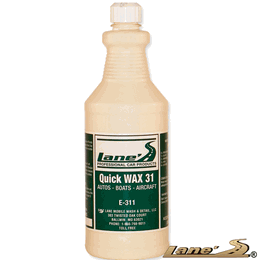 Description



Fits On:
Not Applicable
About this Manufacturer:
Focusing on detailing products for car nuts, dealerships and professional detailers, Lane's has been striving to improve their product line since 2001. This line was designed to manifest a creator's ideal image of what car care products should be. The direct offshoot of a detailing company, Lane's Professional Car Products brings experience to their business and aims to serve the ambition of those who love a car's exterior waxed and polished to perfection.
About this Product:
• Designed For Speed
• Great For Use In Direct Sunlight
• Free Flowing Liquid Wax
• Fast Car Wax
• Easy To Use

This professional auto wax is a free-flowing liquid wax that spreads and wipes off easily, leaving no powder residue. Fast Auto Wax is easy to use by hand or with an orbital buffer. If you are looking for a professional auto wax that performs better in direct sun light, this liquid wax is for you. Professional mobile auto detailers use this auto wax because it is fast and performs better in direct sunlight. If you enjoy waxing your car in the sun this auto wax will provide excellent results.

Directions: Wash and dry the vehicle. Shake well before and during use. Apply Fast Auto Wax with a clean towel, spreading a thin, even coat over the surface. Let dry for at least 15 minutes. Wipe-off with a clean, dry towel.

» SITE CENTERS



» LINKS



» POWERED BY









CURRENT VEHICLE
Pontiac