Lane's Vinyl Cleaner - Power Clean (Gallon)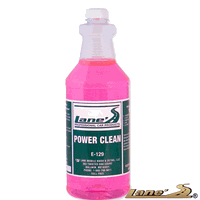 Description



Fits On:
Not Applicable
About this Manufacturer:
Focusing on detailing products for car nuts, dealerships and professional detailers, Lane's has been striving to improve their product line since 2001. This line was designed to manifest a creator's ideal image of what car care products should be. The direct offshoot of a detailing company, Lane's Professional Car Products brings experience to their business and aims to serve the ambition of those who love a car's exterior waxed and polished to perfection.
About this Product:
• Best Vinyl Cleaner
• Very Concentrated
• Eliminates Scrubbing
• Great For Cleaning Soiled And Dirty Surfaces
• Used By Professionals
• Trigger Sprayer Included With 16oz And 32oz Sizes

Heat and UV rays can rob your vinyl of valuable moisture which can lead to your vinyl drying out, and to cracking and peeling over time. This can be duly avoided through some simple cleaning and conditioning to keep your vinyl looking its best. Introducing Lane's Power Clean, the safest and most effective vinyl cleaner that will save you time while providing you with a clean vinyl auto interior.

Make cleaning your auto vinyl interior a part of your car cleaning process on a regular basis. By using Power Clean Vinyl Cleaner as part of your routine, your vinyl will be clean of dirt and debris that can mar your interior.

» SITE CENTERS



» LINKS



» POWERED BY









CURRENT VEHICLE
Pontiac