Lane's Carpet Cleaner - Dry Foam (16oz)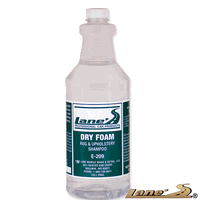 Description



Fits On:
Not Applicable
About this Manufacturer:
Focusing on detailing products for car nuts, dealerships and professional detailers, Lane's has been striving to improve their product line since 2001. This line was designed to manifest a creator's ideal image of what car care products should be. The direct offshoot of a detailing company, Lane's Professional Car Products brings experience to their business and aims to serve the ambition of those who love a car's exterior waxed and polished to perfection.
About this Product:
• Professional Carpet Cleaning Solution
• Does Not Require Water To Activate Cleaning Agents
• Begins To Work Upon Application
• Easy Application
• Great For Carpet, Cloth Seats, Headliners And Seatbelts
• Trigger Sprayer Included With 16oz And 32oz Sizes

Lane's Dry Foam, a professional carpet cleaner, removing carpet stains in seconds upon application. This dry carpet cleaner is unique because it does not need water to activate and makes cleaning carpets easy. When it comes to carpet cleaning use Lane's Dry Foam carpet cleaner, a professional carpet cleaning product that is second to none.

Directions: Spray Dry Foam carpet cleaner on desired area to be cleaned. Lightly brush area sprayed. Wipe clean with a dry microfiber towel. You will be amazed how clean your carpets will be. The only thing left behind is a pleasant scent to go with your clean interior carpets.

» SITE CENTERS



» LINKS



» POWERED BY









CURRENT VEHICLE
Pontiac