Lane's Vinyl Conditioner - Interior Shine (16oz)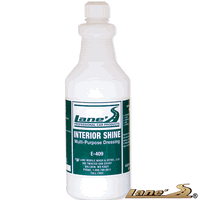 Description



Fits On:
Not Applicable
About this Manufacturer:
Focusing on detailing products for car nuts, dealerships and professional detailers, Lane's has been striving to improve their product line since 2001. This line was designed to manifest a creator's ideal image of what car care products should be. The direct offshoot of a detailing company, Lane's Professional Car Products brings experience to their business and aims to serve the ambition of those who love a car's exterior waxed and polished to perfection.
About this Product:
• Professional Vinyl Conditioner
• Helps Protect And Prolong The Life Of All Vinyl Surfaces
• Prevents Cracking In Sunlight
• Silicone Free
• Easy To Apply

Auto Interior Shine conditions and protects vinyl. This UV protectant provides the ultimate protection against harsh sunlight eliminating discoloration and cracking. If your vinyl or dash has been faded by the sun then Auto Interior Shine is the product you are looking for. This interior protectant is easy to apply and remove. You do not have to worry about an oily feel like other products sold in retail stores. Now, you can prevent your dashboard from cracking, while restoring its original color.

» SITE CENTERS



» LINKS



» POWERED BY









CURRENT VEHICLE
Pontiac