Lane's Aluminum And Chrome Wheel Cleaner (32oz)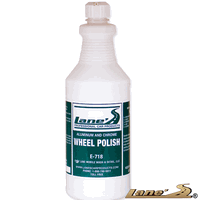 Description



Fits On:
Not Applicable
About this Manufacturer:
Focusing on detailing products for car nuts, dealerships and professional detailers, Lane's has been striving to improve their product line since 2001. This line was designed to manifest a creator's ideal image of what car care products should be. The direct offshoot of a detailing company, Lane's Professional Car Products brings experience to their business and aims to serve the ambition of those who love a car's exterior waxed and polished to perfection.
About this Product:
• Best Aluminum And Chrome Wheel Polish
• Shines And Protects All Wheels
• Professional Grade Wheel And Metal Polish
• Keeps Wheels Protected And In Showroom Condition
• Helps To Protect Against: Corrosion, Oxidation, Stains, Rust, Tarnish, Water Spots, and Harsh Weather Conditons

Aluminum and Chrome wheels will benefit from a good polishing to restore their shine and enhance the overall appearance of your car. Use Lane's Aluminum and Chrome Polish to obliterate corrosion, oxidation, stains, rust, tarnish and water spots while sealing in deep shine and protection.

Before polishing, be sure to clean and remove all loose debris and grime from your wheels to prep them for polishing. Use Lane's New Aluminum for alloy wheels and Lane's Safe Wheel for chrome wheels. Failing to clean thoroughly could result in unexpected scratches on your wheels. Once they are clean, dry the wheel thoroughly before proceeding with the metal polish.

Use a wax pad or dry towel to apply the aluminum and chrome polish to your wheels. Be sure to apply the polish evenly to your wheel, using amble pressure, rubbing in a circular motion with smooth and consistent strokes. This is where a little old-fashioned elbow grease will do wonders for your results.

Allow the aluminum and chrome polish to dry completely. The removal process involves buffing wheels with a soft, clean cloth. You will see the beautiful polished aluminum or chrome shining through. With one wheel down, only three more to go! Anyone who really prides himself on the appearance of his car knows the importance of polished wheels. It is a small thing, often neglected, that will set your car's appearance apart from the rest.

» SITE CENTERS



» LINKS



» POWERED BY









CURRENT VEHICLE
Pontiac