Lane's Chrome Wheel Cleaner (Gallon)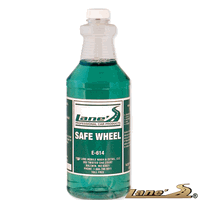 Description



Fits On:
Not Applicable
About this Manufacturer:
Focusing on detailing products for car nuts, dealerships and professional detailers, Lane's has been striving to improve their product line since 2001. This line was designed to manifest a creator's ideal image of what car care products should be. The direct offshoot of a detailing company, Lane's Professional Car Products brings experience to their business and aims to serve the ambition of those who love a car's exterior waxed and polished to perfection.
About this Product:
• Best Chrome Wheel Cleaner
• Safe For all Wheel Finishes Including Custom, Painted, Polished And Powder Coated Wheels
• Professional Strength (non-acidic)
• Begins Working Instantly & Eliminates Hard Scrubbing
• Used By Auto Detailers And Car Dealerships
• Trigger Sprayer Included With 16oz And 32oz Sizes

Lane's Safe Wheel is a non-acidic professional strength wheel cleaner designed to clean chrome, custom, alloy and mag wheels effectively and safely. Lane's Safe Wheel makes Cleaning chrome wheels easy. Always make sure your chrome wheels are cool and spray cleaner on the wheel, watching the dirt and grime instantly start to dissolve. To speed up the cleaning processes rub the chrome wheel lightly using a micro fiber mitt or sponge. Hosing off our professional strength chrome wheel cleaner is exciting because now, you can see the brilliant shine of your chrome wheels.

Directions: Spray Safe Wheel on your chrome wheel, allow 5-10 seconds, wipe wheel with a mitt or towel. Spray wheels off thoroughly.

» SITE CENTERS



» LINKS



» POWERED BY









CURRENT VEHICLE
Pontiac