Lane's Wax - Carnauba Supreme Wax (16oz)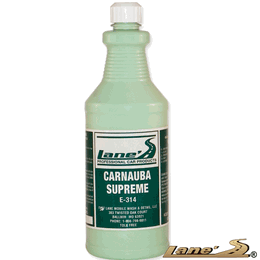 Description



Fits On:
Not Applicable
About this Manufacturer:
Focusing on detailing products for car nuts, dealerships and professional detailers, Lane's has been striving to improve their product line since 2001. This line was designed to manifest a creator's ideal image of what car care products should be. The direct offshoot of a detailing company, Lane's Professional Car Products brings experience to their business and aims to serve the ambition of those who love a car's exterior waxed and polished to perfection.
About this Product:
• Great Wax For Black And Dark Colored Cars
• Black Wax
• Provides Deep, Durable, Long Lasting Shine
• Will Minimize And/Or Eliminate Paint Imperfections
• For Use By Hand Or Buffer

Carnauba Wax - Professional Shine On Black Cars

Unlike other brands, Lane's Carnauba Wax is a liquid paste that is easy to apply and remove either by hand or orbital buffer. A high, durable, long-lasting shine is what you can expect. How do we know Lane's Carnauba Wax will out shine other brands? Easy, we are professional auto detailers. Now you can achieve the same results with Lane's Carnauba Wax by restoring the shine and eliminating paint imperfections to your dark colored car.

Directions: Apply Carnauba Wax with a wax applicator. Work into the paint surface using pressure at first then ease up gradually as the car wax dries and develops a gloss. Wipe off with a clean microfiber towel.

» SITE CENTERS



» LINKS



» POWERED BY









CURRENT VEHICLE
Pontiac