Lane's Auto Shampoo - Pink Car Soap (16oz)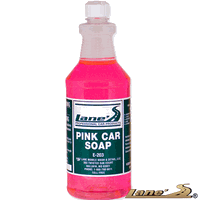 Description



Fits On:
Not Applicable
About this Manufacturer:
Focusing on detailing products for car nuts, dealerships and professional detailers, Lane's has been striving to improve their product line since 2001. This line was designed to manifest a creator's ideal image of what car care products should be. The direct offshoot of a detailing company, Lane's Professional Car Products brings experience to their business and aims to serve the ambition of those who love a car's exterior waxed and polished to perfection.
About this Product:
• Highest Concentration Of Cleaning Agents
• High Foaming Soap
• Eliminates Hard Scrubbing
• Best Car Wash Shampoo
• Removes Dirt and Grime With Ease

Unlike other auto shampoos offered at the retail store level Lane's shampoo is a safe high-foaming concentrate for your car or auto. When it comes to suds, no worries, 1 or 2 ounces of our shampoo will create enough suds to cover your entire auto. Already have a auto detailing business, add Lane's car washing shampoo to your arsenal. This shampoo is used by Fast Lane Mobile Wash & Detail on fleet vehicles, motorcycles, planes and boats to effectively clean by removing dirt and build up from your exterior. If you are planning to wax your vehicle, using Lane's auto shampoo is a good first step. For cleaning jobs on new and used cars, Pink Car Shampoo will save you time while producing outstanding results.

Directions: Use 1 to 2 ounces of Pink Car Shampoo per gallon. Wash thoroughly using a car wash mitt. Rinse auto shampoo and allow to dry.

» SITE CENTERS



» LINKS



» POWERED BY









CURRENT VEHICLE
Pontiac