Aero "Spot" Carpet And Upholstery Spot Remover (1 Gallon)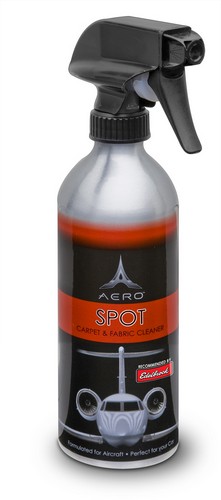 Description



Fits On:
All Cars (Universal)
About this Manufacturer:
Would you trust a line of products that was originally designed to protect jets from the extreme conditions that they endure on a constant basis? International AERO Products is just that, and has grown from a small one-man show to eventually becoming one of the largest airplane detailers in the world. With a collection of products designed to keep your ride looking new from top to bottom, International AERO Products is one of the best-kept secrets in automotive detailing.
About this Product:
SPOT 1 gallon:
Nothing is more unsightly than major stains or heavy soil marks in your car interior, which make it look aged and worn out. SPOT has been developed over many years, and is the exclusive and trusted stain remover of our own professional detail teams on Corporate, Heads-of State and VIP jets all around the globe. SPOT will allow you to maintain your carpet and fabric upholstery just as owners of VIP aircraft have for years. SPOT allows every driver to have pristine, impeccable carpet and fabric upholstery. Whether using SPOT to treat a large area or a persnickety, set-in stain from juice or stubborn dirt, the results are...Spotless. While some carpet and fabric cleaners leave residues that attract dirt for future stains and spots, SPOT does not leave film and will keep the surface looking flawless. SPOT, which is perfect for colorfast carpet and fabric surfaces, is an all natural cleaner making it both biodegradable and perfect for your car

Features:
• Carpet and Upholstery Spot Remover
• Removes stains
• Works on all color-fast carpet or fabric surfaces
• Leaves no residue
• Recommended by Vic Edelbrock Jr.

Directions for use: For removing dirt, soil, and spots from carpet and fabrics. Apply SPOT to a clean, dry cloth and "blot" carpet or fabric surface to lightly saturate spot. Lightly agitate SPOT cleaner into carpet or fabric using a "taping" motion or lightly "striking" the surface with a towel or tamping brsuh to agitate soiled area. Gently blot surface and rinse throughly using a clean towel lightly dampened with water until spot is removed and surface is clean. Repeat as necessary. Test on a small inconspicuous spot furst to check for any issues.

» SITE CENTERS



» LINKS



» POWERED BY









CURRENT VEHICLE
Pontiac